Labour Demand Survey for Alberta's Agriculture industry
 Here is your opportunity to have a say in how Alberta Agriculture and Forestry will build responsive programs to address labour attraction and retention challenges. Please fill out the Labour Demand Survey.
Letter to agriculture industry associations from Bev Yee, Deputy Minister of Alberta Agriculture and Forestry
Funding available through Agriculture and Agri-Food Canada's Career Focus Program
Important Notice
The Career Focus Program will be accepting applications between November 1, 2016 and November 30, 2016for projects beginning on or after April 1, 2017. Applicants are strongly encouraged to apply early.
Applications cannot be submitted prior to the start of the application intake period. For more information about applying, please visit our Applicant Guide page.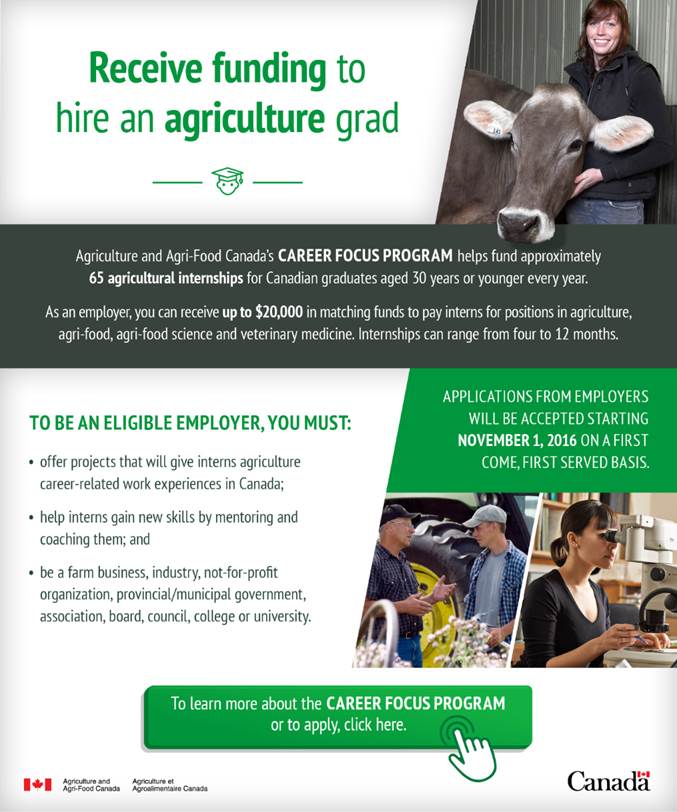 In Ontario's Northumberland County, young farmers make up the majority on many commodity and farm boards. Here's how we do it:
"Many young directors recalled having little choice in attending their first annual general meeting. Some had been living at home at the time but the rest of us were well into building our own independent lives. Yet when families encourage or expect industry involvement here, in general, we seem to oblige by attending as requested. As a result, almost all young directors serving NSCIA are now second, or even third-generation directors.
But if directors attend their first meeting "just to keep Dad happy," the consensus is that they keep coming back on the encouragement of their peers. You can test it for yourself in your own area by looking at where people choose to sit.
When I think back to a number of local meetings held here last winter, new attendees tended not to stray far from the family, while the more veteran young participants often clustered around friendships.
When the social value is there, and our time constraints are respected, we're there too.
If there's also an educational opportunity, however, we're far more willing to commit our time. Active directors are some of the first farmers to insist that local research is important, and many of them don't wait for someone else to suggest an on-farm trial; they just set up their own."
Alberta's Challenges with Labour
Canada-Alberta Job Grant
Employers can now apply for this grant: http://www.albertacanada.com/opportunity/employers/jobgrant.aspx
A detailed applicant guide along with how-to videos are available.
Alberta has the highest job vacancy rate in the country. This means we need workers – both skilled and semi-skilled – and we need them now.
The federal and provincial governments recently launched the Canada-Alberta Job Grant to help employers provide the right training for the jobs that are in demand.
This program is employer driven, which means employers decide who will be trained and what type of training they need. Employers will be reimbursed two-thirds of direct training costs to a maximum of $10,000 per trainee.
Summer CAHRC Partner Update
Update on Emerging Labour Issues
For Publication in Your Association Newsletter
Things Change Quickly.  Keep up to date on Emerging Labour Issues.

The Canadian Agricultural Human Resource council (CAHRC) monitors critical and emerging labour issues and prepares Quarterly CAHRC Partner Updates to keep your Association Staff and Board informed about important developments.  Please feel free to distribute this timely information.
2017 RESUMES
*Please let ACFA's Communications Manager, Shannon Lyons, know if you pursue a hire from any of the posted resumes on this website.
Good day,

My name is Francois Heyns. I am a 40-year-old male with 13 years' experience in the South African Cattle Feedlot industry.

Due to multiple reasons I am seeking employment in the Canadian Feedlot industry and I intend to immigrate with my family should I get the opportunity.

Attached you will find my resume and letters of reference.

I would appreciate any assistance and advice.

Regards,

Francois Heyns
Hi,
I am a section manager at one of South Africa's largest feedlots. My family and I really want to migrate to Canada. I however need to have a valid work offer or sponsor to be able to apply for a visa.
Attached hereto a copy of my resume.
I really appreciate your consideration.
Thanks,
Beatrice Jansen Van Rensburg
+27832337345 / +27835640835

Resume: andriescv.col