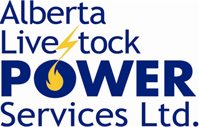 The ALPS program is a power aggregation program in partnership with Campus Energy Partners LP and the Alberta Cattle Feeders' Association.
Campus Energy Partners LP is a Calgary based, registered, power and natural gas retailer licensed by the Alberta government to service all customer groups within Alberta.
Under ALPS, Campus Energy Partners is able to supply Electricity and Natural Gas services to livestock and agricultural producers under an Energy Aggregation program at wholesale prices.
Some of the benefits of the ALPS program are:
Bulk purchase pricing
Ease of switching, all facilitated by Campus Energy Partners
Easy-to-read consolidated invoicing delivered monthly via email
Automatic billing validation process
Convenient calendar month billing periods
Office:  587-323-3731
Toll Free: 1-877-472-2600
For more information please visit the links below:
If you are interested in receiving a contract offer with no obligation to sign any contract please fill out the documents linked below:
Additional Resources