Following industry standards of animal care to ensure their optimal health and well-being is an essential pillar of the cattle feeding sector's license to operate. Cattle feeders recognize their obligation to build and maintain the trust of their customers and consumers by offering beef produced through humane practices and recognized and respected standards of animal care. We are socially responsible and respect and manage our animals to the highest standards of health and welfare.
ACFA and its members are committed to following recommended and recognized standards of care based on scientific knowledge about the needs of our animals. Cattle feeders also possess extensive training and experience in animal husbandry. These skills, combined with sound professional judgement, are integral to the many day-to-day animal care decisions impacting the well-being of individual animals and overall herd health. Cattle feeders also draw on the knowledge, advice, and guidance of accredited veterinarians and animal nutritionists to ensure the highest level of animal care.
ACFA members follow recommended and recognized standards of animal care through participation in the following initiatives and organizations: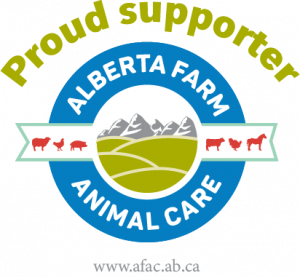 Alberta Farm Animal Care (AFAC) has been asked to facilitate this new initiative, funded and requested by the Government of Alberta.
The Livestock Welfare Engagement Project is an initiative where Alberta Farm Animal Care is collaborating with Alberta's livestock sector to evaluate our industry's experiences, perceptions, and priorities related to animal welfare. A report of our findings will be shared with the provincial government to support a deeper understanding of livestock welfare opportunities, challenges, strengths, and weaknesses in the province. Feedback to this survey is a vital part of building that report and will be followed by regional focus groups.
Click here for details on the project.
Be a guest, not a predator in the feedlot pen
As pen checkers, we come across all types of pens of cattle from gentle and docile to guarded and extremely wild. Good patient riders learn to create an atmosphere of trust with all types of cattle and over time build a balanced and uniform pattern of behaviour throughout each group. This will allow the pulling of sick cattle without an extreme burden of stress for all involved.

Bruce Derksen worked in the livestock industry and specifically as a feedlot pen rider for over 30 years in Western Canada. He now lives in Lacombe, Alta.
Canadian Feedlot Animal Care Assessment Program
ACFA contributed to National Cattle Feeders' Association's Canadian Feedlot Animal Care Assessment Program, resulting in a code of practice specific to the handling and care of beef cattle on Canadian confined feeding operations (CFOs).
The Feedlot Animal Care Assessment Program is not intended to replace or supplant the National Beef Code, but to serve as a companion code focusing on animal care issues unique to beef feedlots. The program provides feedlot operators and beef processors with a single and widely accepted animal care protocol, dispensing with the need for multiple animal care agreements between cattle feeders and beef processors.
As a company that's built our reputation on serving safe food for almost 50-years, animal health and welfare is very important to McDonald's Canada and our guests as we know that healthy animals provide safe food. We are proud that animal welfare has been part of our legacy of commitment for decades and is now one of the main components of our recently concluded Sustainable Beef Pilot project. Given our focus on animal care and independent third party verification, we commend The National Cattle Feeders Association for receiving Professional Animal Auditor Certification Organization (PAACO) certification of their Feedlot Animal Care Assessment tool. The certification is a testament to the NCFA's leadership in working with processors, producers, and industry technical experts to produce a tangible tool that focuses on improving the health and welfare of animals raised for food, benefiting everyone in the value chain. —Jeffrey Fitzpatrick-Stilwell, Senior Manager Sustainability, McDonald's Restaurants of Canada Limited
Program-related Links
National Farm Animal Care Council: http://www.nfacc.ca/ 
PAACO: http://animalauditor.org/
Thank you to the nearly 170 active participants and multiple industry stakeholder that helped make the Pilot happen. We are excited to announce that the Final Report and Video are now available to share with others.
Transporting Beef Cattle — doing it the right way maintains your investment
"Even though cattle can legally be on a truck for 48-hours, the loads that we surveyed were enroute for an average 28-hours when they stopped for feed, water and rest.  Cattle were being rested for, on average, just over eleven hours, whereas the law requires five hours of rest – so the industry practice is more than double that amount of time."
What beef producers need to know about pain control and prevention
The Real Dirt on the Codes of Practice
By Kristen Kelderman, Farm & Food Care's Farm Animal Care Coordinator
Posted on by Farm and Food Care Ontario
As Canadians, we are very fortunate to have many privileges that others do not. Our great nation boasts the luxuries of real maple syrup, moose sightings, caffeinated beverages from Tim Hortons and the Royal Canadian Mounted Police to name a few.
But did you know that Canada also stands out on the world stage when it comes to farm animal care? In Canada, we have Codes of Practice for 14 different farm animal species. They are often referred to in the farming community as the Codes.
So what are these Codes? They act as our standards for farm animal care and handling across Canada.
Traceability
The Canadian Food Inspection Agency's (CFIA) Health of Animal Regulations.
Please click on links below to view the following consultation documents:
1- Executive Summary of Consultation documents
2- Overview on a federal livestock identification and traceability regulatory proposal. Second round of consultation: Consultation paper
3- Livestock identification and traceability regulatory proposal. Reference document for second round of consultations
4- Evaluation of Three Livestock Movement Reporting Options to Support Tracing Investigations Following a Sanitary Issue in Canada.
Executive Summary of Consultation Documents 2015-05
Consultation document for 2nd round 2015-05
Reference document for 2nd consultation 2015-05
Social hosted video URL is empty.