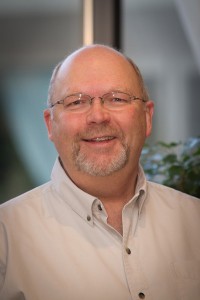 This week in our 'Meet the team' series, we'd like to introduce you to Bryan Walton, who has been our chief executive officer since 2007.
Bryan is a born and bred Albertan, hailing originally from Westlock, although he grew up in Edmonton.
Even though he hasn't always been a cattleman, Bryan did start his career in the animal sciences. He graduated with a BSc and MSc in Zoology, and worked as a fish biologist, before joining the Ministry of Agriculture as executive assistant (a position that would now be 'chief of staff').
After nine years working for the government, Bryan decided he "wasn't cut out to be a G-man" and he left the public sector to open the western office of the Canadian Council of Grocery Distributors, a national trade organization. Opening the organization's Ottawa office was his next challenge, but the call of Alberta was strong. So when an opportunity arose with the ACFA he was delighted to accept such an exciting prospect that was also in his home province.
With Bryan's background in advocacy and public relations, he has found plenty to keep him energized. When asked about some of the organization's recent accomplishments of which he is particularly proud, he said:
"The passing of Bill 43 was a significant event for our industry, as it made the check-off refundable. Since the check-off is mandatory it is important for producers to have the refund option to ensure accountability and responsible use of producer money. It enabled cattle feeders to channel all or part of their refunds to the ACFA which improved the health of our Association. We continue to explore funding options with our partners to look for innovative ways to advance our industry."
The National Cattle Feeders' Association was also in its infancy when Bryan joined the organization and he has been instrumental in helping build it. "But success in the association world is not a solo effort," he said. "It's my colleagues who help make this organization so successful."
When asked what he loves most about his work with the ACFA, Bryan had no hesitation in answering "The people! Cattle people are great people to be around – they work hard and they play hard. They also understand governance, and the role of the board and the role of management, so they're a pleasure to work with."
When Bryan is not working he loves to spend time with family, including his five grandchildren. He describes himself as an outdoorsman who loves hunting and fishing, and he loves to spend time at the lake.
Stay tuned for upcoming posts in which we'll introduce more members of our ACFA team. In the meantime, be sure to check out our first post in which we met Page Stuart, our past board chair.
https://cattlefeeders.ca/wp-content/uploads/2016/01/Bryan_Walton-200x300.jpg
300
200
Team
/wp-content/uploads/2020/02/ACFA-web-logo.png
Team
2016-01-21 13:00:59
2020-01-28 14:25:23
Meet the team: Bryan Walton, CEO