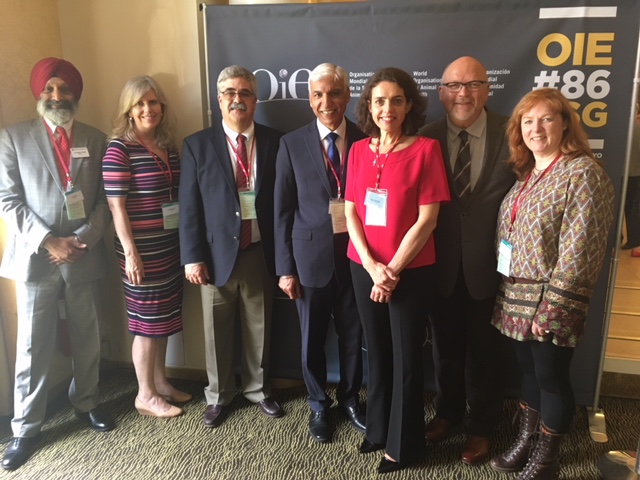 The 86th session of the general assembly of the World Organisation for Animal Health (OIE), which took place from May 20-25 this year in Paris, France, concluded with some positive changes for Canada when it comes to beef exports.
The Canadian delegation was led by Dr. Jaspinder Komal, Canada's Chief Veterinary Officer (CVO) and included ACFA's president and CEO, Bryan Walton.
Setting international standards for the livestock industries
The OIE is an international organization whose primary objective is to set international standards for animal health and the safe trade of animals and animal products.
It was created in 1924 in response to an outbreak of rinderpest disease in cattle in Europe. Since then, its membership has grown from the original 24 European countries to its current membership of 182 countries from around the world.
Member countries follow the standards created by OIE by incorporating them into their own national animal health legislation. The standards are recognized by the World Trade Organization, and are used as a guide to mediate trade disputes between countries.
How Canada takes a leading role in the OIE
We spoke with Dr. Komal to learn more about Canada's participation in the OIE.
"The development of these standards is democratic," said Dr. Komal. "Ad hoc working groups draft the initial standards, which are then sent to all member countries twice before the standard is adopted in a general assembly attended by official delegates from all member countries."
Canada is known for its strong reputation and expertise in animal health. As a global leader and because of the importance of international standards to trade Canada actively influences the development and finalization of OIE standards by providing expertise on ad hoc working groups and specialist commissions, and by sending the official delegate to the general assembly where these standards are adopted. Canada also works with like-minded countries such as the U.S., New Zealand and Australia to influence the development of these standards.
Outcomes from the 86th general assembly
Dr. Komal explained that, in addition to the general assembly meetings, side meetings also take place between delegates to discuss trade issues. This year, Canada advanced trade discussions with 14 countries. Some of the positive trade outcomes include:
The Canadian and Chinese delegates met to discuss harmonization of the audit process for pet food or rendering products. They agreed to meet later this year to finalize this harmonization, recognizing each country's systems and potentially streamlining our trade of pet food with China.
The US agreed to collaborate on the Northern Border Port entry project under which Canadian feeder cattle will not be unloaded from the trailer when presented for inspection at the US port of entry. This will help streamline cattle movements across the Canada–US border and address animal welfare issues.
The U.S. delegation recognized Manitoba as being free from bovine tuberculosis, which means that breeding cattle being exported to the U.S. no longer require testing.
Dr. Komal concluded by saying, "It's important to feed the world, and the OIE standards help protect against diseases that can be transmitted from one animal to another, and from animals to humans."
Next week on this blog we will learn more about Dr. Komal's role as Canada's chief veterinary officer.
https://cattlefeeders.ca/wp-content/uploads/2018/06/IMG_3184.jpg
480
640
Team
/wp-content/uploads/2020/02/ACFA-web-logo.png
Team
2018-06-14 13:00:19
2020-01-28 14:23:48
How membership in the World Organisation for Animal Health helps Canadian beef exports