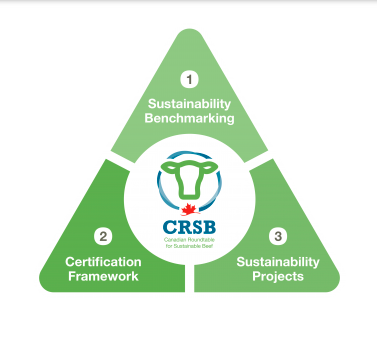 Canada's beef producers want consumers to know that they are producing good, healthy food in a sustainable way. 
But, what does sustainable mean, and what are beef producers doing to foster responsible production? For answers to these questions we turned to the Canadian Roundtable for Sustainable Beef (CRSB).
CRSB is a collaborative, multi-stakeholder organization dedicated to promoting sustainability throughout the Canadian beef industry. They have three main pillars of focus: 
1) Sustainability benchmarking – a farm-to-fork assessment of the overall performance of the Canadian beef industry from environmental, social and economic perspectives.
2) The Certified Sustainable Beef Framework, which provides a tool for producers to attain certification against sustainability standards, which can then be communicated to consumers.
3) Sustainability projects, which help advance continuous improvement for sustainability in the Canadian beef industry.
"We define sustainability as a socially responsible, economically viable and environmentally sound product that prioritizes the planet, people, animals and progress," said Andrea White, CRSB's community engagement manager.
CRSB has adopted the same five focus areas as the Global Roundtable for Sustainable Beef (GRSB): natural resources; people and the community; animal health and welfare; food; and efficiency and innovation. 
Some recent projects which have come from the organization include the National Beef Sustainability Assessment and Strategy (2016), CRSB Certified Sustainable Beef Framework (2018), collaboration on a Species at Risk on Agricultural Lands project, intended to maintain and enhance wildlife habitat, and a study evaluating consumer perceptions of beef sustainability.
How is the beef industry doing on sustainability?
"One of our priorities is to teach the public that beef production in Canada is already sustainable," Andrea said. "There are a lot of loud voices out there telling very small pieces of the story, but they often don't talk about the many ways beef production actually benefits the environment. By working together as an industry, we can tell the whole story, and demonstrate the good work we are doing."
You can read about the ways beef production benefits the environment in '4 things you should know about beef production and the environment'.
Through a combination of sustainability projects and public outreach, the CRSB aims to support continuous improvement in the industry's sustainability performance, while simultaneously creating public awareness of the true facts about the impact of beef production on communities, animal care and the environment. "Sustainability is a journey, not an end point," said Andrea.
Cattle feeders and sustainability
Sustainability is a top priority for Alberta's cattle feeders, so the appointment of Les Wall of KCL Cattle Co., in Coaldale Alberta, to the CRSB Council is good news. 
"We are pleased to have Les Wall, a progressive and innovative producer, join the CRSB Council," said Anne Wasko, CRSB chair. "We look forward to his valuable expertise and experience in representing the cattle feeding sector on our multi-stakeholder leadership team, to help propel the sustainability of Canadian beef forward."
To learn more about the work that cattle feeders are doing to improve the sustainability of their operations, check out 'The beef industry and sustainability: how are we doing and where could we improve?'
https://cattlefeeders.ca/wp-content/uploads/2018/11/Screen-Shot-2018-11-29-at-9.54.19-AM.png
341
377
Team
/wp-content/uploads/2020/02/ACFA-web-logo.png
Team
2018-11-29 13:00:18
2020-01-28 14:23:31
The truth about beef production and sustainability