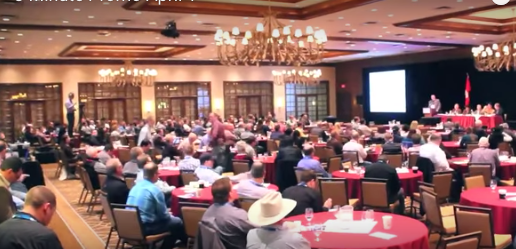 Cattle producers and feedlot operators work hard to ensure that the industry operates in a responsible, sustainable way, but many Canadians know little about the beef that's on their plates. It's not because they don't want to know — they have questions about things like how cattle are raised, how the industry contributes to Canada's GHG emissions and the use of hormones.
These are important questions — ones the beef industry is trying to better answer. Consumers and industry share common concerns, but we don't always speak the same language. We're working to change that through events like this year's Alberta Beef Industry Conference.
The annual conference, which takes place February 15 to 17, is hosted jointly by the Alberta Cattle Feeders' Association, Alberta Beef Producers, Alberta Livestock Dealers and Order Buyers Association, Alberta Auction Markets Association, and Western Stock Growers Association. This year's workshops and sessions have been planned to help  producers understand the concerns and perspectives of their consumers.
How cattle producers and consumers can reach an understanding
The beef industry requires a market for its products, and consumers want to make informed decisions about what they feed their families. Is it possible to satisfy both parties? Conference participants will explore this pivotal question, focusing on:
Consumer perceptions of the beef industry

How to effectively communicate with consumers

Branding and storytelling

Economic and market outlooks
By gaining a greater understanding of the local and global marketplace, and the attitudes and beliefs of consumers, cattle producers will be better equipped to communicate their stories and provide helpful information. That way, the industry can start to educate Canadians about its high standards of animal care, safety and sustainability and be seen globally as a socially responsible supplier of premium beef.
Over the next few weeks we'll be interviewing some of the conference speakers to gain their perspectives on this key topic. Stay tuned for next week, when we will speak with Doug Lacombe, of Communicatto, about changing consumer tastes and trends.
https://cattlefeeders.ca/wp-content/uploads/2018/02/screen-shot-2017-01-18-at-7.46.18-pm.png
249
516
Team
/wp-content/uploads/2020/02/ACFA-web-logo.png
Team
2017-01-19 13:00:59
2020-01-28 14:24:38
Can industry and consumers find common ground on beef?