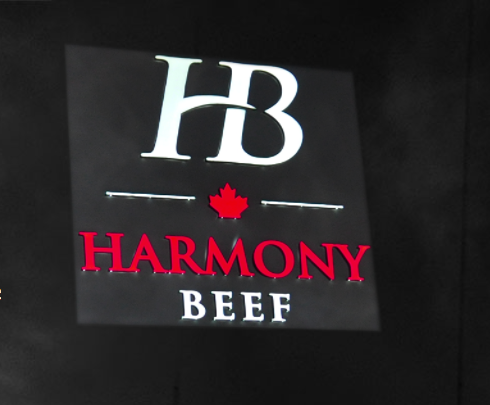 A beef processing plant which opened this year just north of Calgary is setting new industry standards for food safety, animal care and environmental stewardship.
This week, we're exploring the food safety innovations introduced at Harmony Beef, which opened in Balzac, AB., in February 2017.
Hazard analysis and critical control points
The management team at Harmony Beef is committed to meeting or exceeding the stringent requirements of the Canadian Food Inspection Agency's Food Safety Enhancement Program.
One of the cornerstones of the program is HACCP System (Hazard Analysis and Critical Control Points), a systematic approach to food safety that helps prevent, find and correct hazards throughout the production process.
At Harmony:
The plant and production protocols have been designed to meet European standards, which exceed those in North America.

Temperature control and air flow systems in the building were designed to

control any potential microbial growth and

prevent contamination.

Critical control points, where inspections and interventions take place, include everything from slaughter to packaging.

Supervisory and food safety personnel have the authority to enforce compliance with food safety systems on anyone entering and/or working in the facility.

All water used in the plant is treated, and the outflow exceeds Canadian drinking water standards.
Opening up a world of opportunity
Because the new plant demonstrably complies with European food safety standards, it provides the opportunity to increase our trade with EU countries.
International trade is crucial to the growth and sustainability of the beef industry, and to the contribution it makes to the Canadian economy. But, as you can learn in the blog post, Canadian beef in demand: feeding the European market and why it matters, Canada does not meet its tariff-free quota for beef exports to Europe. In the post, feedlot operator Jason Hagel says processing plants in Alberta tend to focus on the U.S. market, leaving the European market under-served.
You can read about another international trade issue concerning Canada's beef producers in Canadian beef trade with China takes a serious blow.
In upcoming weeks, we will explore the high standards of animal care, including low-stress handling, and the environmental innovations introduced at the Harmony plant.
https://cattlefeeders.ca/wp-content/uploads/2017/11/screen-shot-2017-11-09-at-11.01.59-am.png
405
490
Team
/wp-content/uploads/2020/02/ACFA-web-logo.png
Team
2017-11-09 13:09:32
2020-01-28 14:24:04
How a beef plant is setting a new standard in food safety