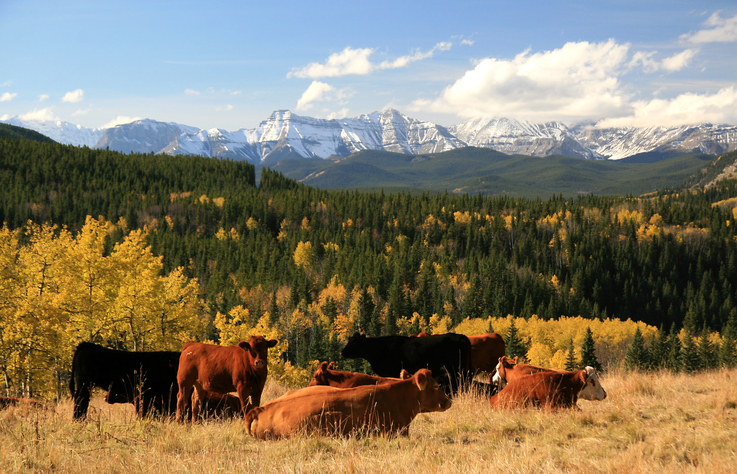 In previous posts on this blog we have seen how technology is helping improve feedlot efficiencies, and could even help with the labour crisis.
The technology responsible for much of these developments is Radio Frequency Identification (RFID), and this week we're going to take a look at how this technology is used in the Canadian Cattle Identification Program.
To learn more, we spoke with Kori Maki-Adair, communications manager at the Canadian Cattle Identification Agency (CCIA).
"The use of RFID tags in Canada's cattle identification program assists the Canadian cattle industry with the automation of data collection and the ability to maintain the integrity of all information," said Kori. "In 2003, the entire Canadian cattle industry committed to a transition to this technology, and Canada's traceability system is now world-renowned for its efficiency and effectiveness."
What is RFID?
Every cow in Canada is fitted with an ear tag prior to leaving its farm of origin. Each tag contains an approved RFID transponder (capable of receiving and transmitting a radio signal), consisting of an encoded chip and antenna.
The tag can provide a permanent record of such basic information as where the cow originally came from, its date of birth, sex, breed and species. But the possibilities are almost endless – the tags can be used for herd management, on-farm record keeping and more. As we saw in 'How technology is helping improve feedlot efficiencies', they can also be used to monitor what each individual animal has been fed, and its precise intake.
Why does this ability to track information matter?
The technology gives us the ability to trace an animal through the entire chain of custody (from its farm of origin through every step of the production chain, right to the consumer). It's a crucial tool in helping to ensure the protection of animal health, public health and food safety. For instance, in the event of a disease outbreak, tracing the origin is fast and simple.
This ability to track how each individual animal has been raised creates absolute confidence in our Canadian product, and has given Canada a reputation as a leader in the field. For retailers and restaurants it means they can make claims about the beef they serve with 100 per cent certainty that they are accurate.
"A strong and credible traceability program will help to ensure Canada remains a leading producer and marketer of beef and dairy cattle, bison and sheep, with a stable demand for products at all times," said Kori.
How is the program implemented and enforced?
All cattle must be identified with an approved tag before leaving the farm where they were born – and it is prohibited for any operator in the beef supply chain to send, transport or receive an animal not bearing an approved tag. This is enforced by the Canadian Food Inspection Agency.
"Tags are issued to livestock operators through CCIA-authorized tag dealers," explained Kori. "Each tag is visually marked and electronically embedded with a unique identification number which is allocated by, and subsequently recorded on, CCIA's Canadian Livestock Tracking System (CLTS) database." Data from each tag is transmitted to, and stored on the database, using tag readers.
The unique number of any animal's tag remains active until the point at which the animal is exported, or processed and inspected.
Are the tags reliable?
"All approved Canadian Cattle Identification Agency (CCIA) RFID tags are laboratory and field-tested to a rigid testing framework that embraces international standards," said Kori. "They are designed to function without battery power, and have the capacity to perform for the lifetime of the animal. In addition, they are designed to function in a variety of climates and through other environmental contaminants that are known to impede line of sight technologies such as bar-codes and dangle tags," she continued.
If an animal loses its approved tag, it must be replaced with another approved tag.
As we saw in the post 'McDonald's verified sustainable beef – what does that mean for Canadians?', the quality of Canada's traceability program was a leading factor in McDonald's Restaurants' decision to use Canada for their Verified Sustainable Beef Pilot Project.
Stay tuned as we explore more ways technology is being used by Canada's beef industry.
https://cattlefeeders.ca/wp-content/uploads/2016/12/iStock-157286827.jpg
474
737
Team
/wp-content/uploads/2020/02/ACFA-web-logo.png
Team
2016-12-08 12:29:41
2020-01-28 14:24:39
Why traceability is making Canada a world-leader in beef production