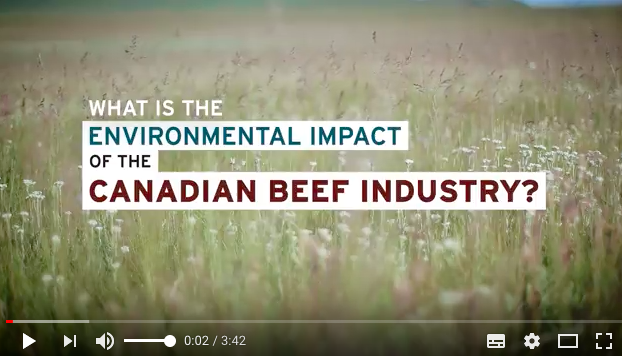 Canadians care about the environment, and want the facts. When it comes to the beef industry, it's easy to find information about the environmental impacts of beef production, such as greenhouse gas emissions (GHG) from the digestive processes of cows. But it can be hard for Canadians to find balanced information – to learn, for instance, that beef production can also be good for the environment in a variety of ways.
Here are four ways beef production benefits the environment:
Much of the land used for grazing cattle is unsuitable for crop production – for instance because it is too hilly, too stony, too boggy or too dry.

Grasslands help maintain watersheds, sequester carbon, prevent erosion and support biodiversity.

Much of the grain used by feedlots is not of a high enough quality for human consumption.

Feedlots are able to use otherwise wasted by-products, such as waste from grain ethanol plants.
To help explain the environmental impact of the Canadian beef industry, Beef Advocacy Canada produced the following video which shows how beef production can actually be good for the environment:
As you can see, protecting the environment is a top priority for Canada's beef producers. But there's always more that can be done.
Striving for improvement
To find out how the beef industry is working to improve its environmental impacts, we spoke with Reynold Bergen, science director at the Beef Cattle Research Council. Reynold explained that the development and adoption of new production technologies, more efficient feeds and improved animal care has benefited people, cattle and the environment.
"Raising a kilogram of Canadian beef today generates 15 per cent less greenhouse gas than 30 years ago," said Reynold. "We can also produce as much beef as we did 30 years ago using 29 per cent fewer cattle, and using 24 per cent less land."
Check out the ways our members make environmental stewardship a priority in 'How Alberta's cattle feeders are helping protect the environment', 'Taking the heat off meat: the truth about GHG emissions' and 'The beef industry and sustainability: how are we doing and where could we improve?'
https://cattlefeeders.ca/wp-content/uploads/2017/11/screen-shot-2017-11-02-at-12.11.08-pm.png
356
622
Team
/wp-content/uploads/2020/02/ACFA-web-logo.png
Team
2017-11-02 13:00:53
2020-01-28 14:24:04
4 things you should know about beef production and the environment