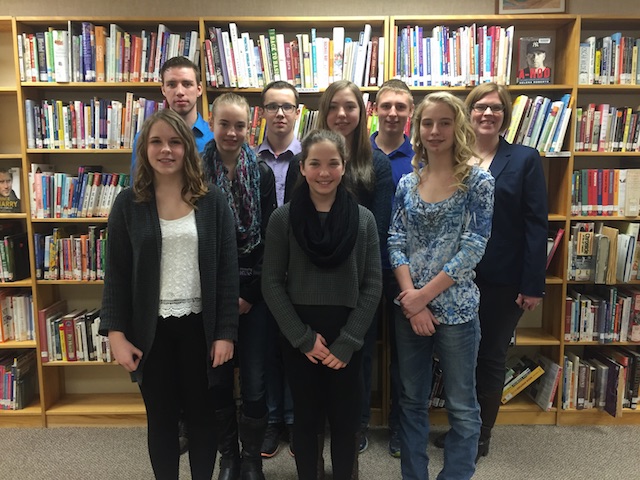 One of the biggest challenges facing the beef industry, and agriculture in general, is a chronic labour shortage. As more and more people move into the cities for work, it becomes harder for agricultural operations to find the manpower they need to run at optimal efficiency.
We have a variety of initiatives and programs to support employee recruitment and retention for cattle feeders. But one of the best ways to ensure a future workforce is to give young people a reason to stay in, or return to, their rural communities. Acme School, in the Golden Hills School Division has come up with a creative way to teach rural students about the career opportunities that exist on their very doorsteps.
We spoke with Cathy Price, project coordinator and teacher at Acme School to learn more about their Career Connections program:
Q: What is Career Connections?
Cathy: It's a community-based model of education whereby local businesses and entrepreneurs are sharing their experiences with our students, and providing them with marketable skills for the future. They are helping make sure these kids know where they come from, as well as where they're going.
Q: What type of work are the students doing?
Cathy: Career Connections is really a K-12 model of education. In the younger grades, the students participate in a variety of things, from field trips and local farm tours to guest speakers from our community talking about their roles and careers. It gives our elementary students a chance to connect their learning to the world beyond our school.
This continues throughout junior high, but we also introduce a few courses through the Career and Technologies Foundations Program of Studies. These courses are designed to encourage students to innovate, think critically, communicate their ideas effectively, develop an entrepreneurial spirit and connect their experiences locally to what is happening globally. Our grade 9 Career Exploration course is an example of a course that really focuses on helping students identify their strengths, passions, and areas of interest prior to help them choose the proper courses, and to keep as many doors open as possible, as they head into grade 10.
In high school students may continue exploring careers with job shadows, work experience, special projects, the Green Certificate Program, Agriculture Industry Training, the Registered Apprenticeship Program and an Agriculture Internship Program. Students in these programs are working at feedlots, local nursing homes, car dealerships, agriculture retailers, and manufacturing facilities, just to name a few.
Q: How are cattle feeders participating in career connections?
Cathy: Several feedlots have students completing work experience at their facilities. We also have some students who are going to be working at local feedlots with the Agriculture Internship program. Korova Feeders Inc. has invited students to tour their facility during our Agriculture Industry Training Days for the past two years. 
Last year a vet at Korova Feeders showed students their veterinary treatment facility, Feedlot Health, and talked about safety protocols for handling livestock both for the animals as well as the handlers. They also took students on a tour of the pens to discuss how animals react. Feedlot Health is also willing to bring students who are interested in careers in veterinarian sciences to participate in a discussion on animal health at the feedlot with the feedlot staff.
Q: Why do you think this is an important program in terms of keeping students in the rural communities, and supporting farmers?
Cathy: It's important to remember that this isn't necessarily about keeping kids in our communities and it isn't always about agriculture. We need to show students the opportunities that are available locally, but we also need to support their personal journeys, which might take them out of our communities to travel, for further education, or to pursue careers abroad. 
We create a program that showcases what their dreams and interests might look like in the local context, but we are also careful to support their interests outside of the local area as well.
Check out this video to hear some of the Career Connections students share their experiences with the program:
Stay tuned for next week when we'll be exploring more of the facts and the myths about the current labour shortage.
https://cattlefeeders.ca/wp-content/uploads/2016/04/Resized-student-pic.jpg
480
640
Team
/wp-content/uploads/2020/02/ACFA-web-logo.png
Team
2016-04-14 13:00:00
2020-01-28 14:25:06
How cattle feeders are helping create a future for young people in agriculture