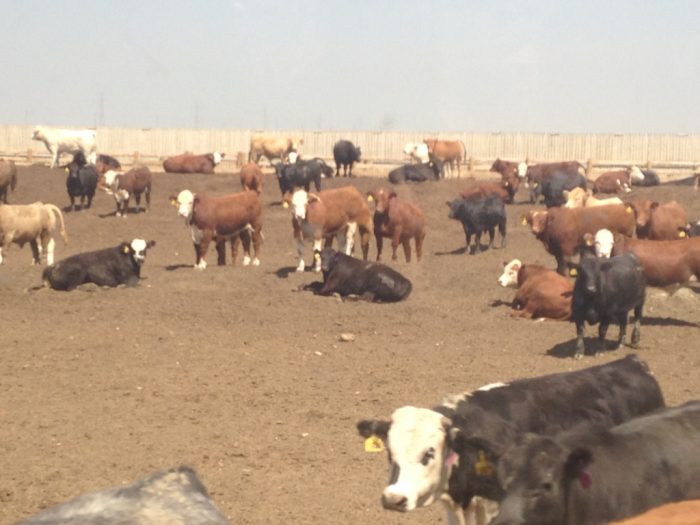 When it comes to the food you eat, you want to know the facts. Is it sustainably and ethically produced? Is it good for you? Unfortunately, the many misconceptions surrounding beef production make it hard to get accurate, reliable information. Here are five of the most common myths:
Myth #1 Pastureland is a waste of good agricultural land
Most cattle are pastured on land that is unsuitable for crop production, for instance, because it is too hilly, stony, boggy or dry. Those grasslands also help maintain watersheds, sequester carbon, prevent erosion and support biodiversity.
In the feedlot, the animals are typically fed grains that do not meet specifications for human consumption and would otherwise be wasted.
Myth #2 Beef is bad for your health
Red meats are the best source of high-quality dietary protein relative to caloric intake, as well as being rich in nutrients, such as zinc, iron and Vitamin B12.
Recent research has shown that the advice to eat less red meat could result in an increased incidence of iron-deficiency anemia – and it has been documented that Canadians, on average, are not consuming the recommended serving of red meat within the current Canadian Food Guide recommendations for meat and alternatives.
Myth #3 Antibiotic-free beef is better for you
The use of antibiotics in food animals is strictly regulated, and feedlots work closely with veterinarians to ensure they are used appropriately. There are mandatory withdrawal times between the use of an antibiotic and the harvesting of an animal, to ensure the meat is antibiotic-free.
Without the use of antibiotics, animals can get sick, suffer and die, even though there are no known food safety benefits.
Myth #4 Cattle in feedlots are kept in cramped, unsanitary conditions
Cattle in feedlots are provided with spacious pens that allow each animal ample room to move and interact naturally. To ensure the cattle are comfortable during their stay, bedding is added regularly for resting as well as warmth in the winter. Timely removal of animal waste helps keep animals healthy and ensure their well-being. Cattle are also given ample amounts of clean, fresh water and a nutritious, easily digestible, high-energy diet consisting of 80% grains and 20% forages.
Myth #5 Hormone-free beef is better for you
Research has shown that any hormones in the meat we consume are broken down by digestive enzymes and stomach acid. Very little reaches the bloodstream. For those concerned about hormones, there are two important points to note:
No meat is hormone-free! All animals have hormones naturally occurring in their systems.

When you eat a burger, there are more hormones in the bun than in the meat.
Next week on this blog, Roy Lewis, of Westlock Veterinary Center, north of Edmonton, will explain why the use of hormones in food animals is not just safe, but also an environmentally responsible way to raise food.
https://cattlefeeders.ca/wp-content/uploads/2018/01/thumb_img_2751_1024-e1516909910149.jpg
525
700
Team
/wp-content/uploads/2020/02/ACFA-web-logo.png
Team
2018-01-25 12:52:28
2020-01-28 14:24:04
Busted! 5 beef myths that don't stand up to the facts