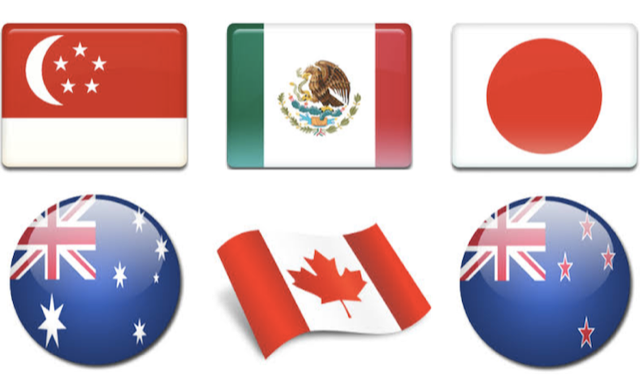 A recently ratified agreement between the government of Canada and 10 other countries will provide tariff-free and/or competitive access to key markets in the Asia-Pacific region.
On Oct. 25, The Government of Canada became the fifth member nation to ratify the Comprehensive and Progressive Agreement for Trans-Pacific Partnership (CPTPP).
CPTPP countries that ratified before Canada were Japan, Mexico, Singapore and New Zealand. The sixth nation to ratify the deal was Australia on 31 October. Because the provisions of the agreement specify that it enters into effect 60 days after ratification by at least 50 per cent of the signatories (six of the eleven participating countries), it will come into force on 30 December 2018.
Canada's agricultural producers had urged the federal government to be one of the first six to ratify the agreement, allowing Canada to benefit from the early rounds of negotiations and tariff cuts. For beef producers, early ratification is considered key to securing the best terms with the growing markets in Japan, Vietnam and Malaysia.
The Japanese market in particular holds huge potential for Canadian beef producers. The CPTPP will reduce the current 36.5 per cent tariff to 27.5 per cent on Canadian fresh beef and 26 per cent on Canadian frozen beef. Further cuts will eventually bring the tariff down to nine per cent for fresh beef, while frozen beef will ultimately be completely exempt.
The National Cattle Feeders' Association (NCFA) and Alberta Cattle Feeders' Association (ACFA) are delighted the Canadian federal government worked so diligently to ratify the deal. The government used a rare walk-around process to pass the 14 Orders in Council required to complete the process.
"Canada is a trading nation," Jim Carr, Minister of International Trade Diversification, said in a statement announcing the ratification. "The CPTPP will add nearly half a billion consumers to the growing list of places where Canadian businesses can compete and succeed on a level playing field. The ratification of the CPTPP represents another important step toward trade diversification to help the middle class and those working hard to join it to compete and succeed in the global marketplace."
https://cattlefeeders.ca/wp-content/uploads/2018/11/CPTPP-First-Six.png
389
640
Team
/wp-content/uploads/2020/02/ACFA-web-logo.png
Team
2018-11-15 17:15:54
2020-01-28 14:23:31
Trans-Pacific trade deal opens new markets for Canada's beef producers