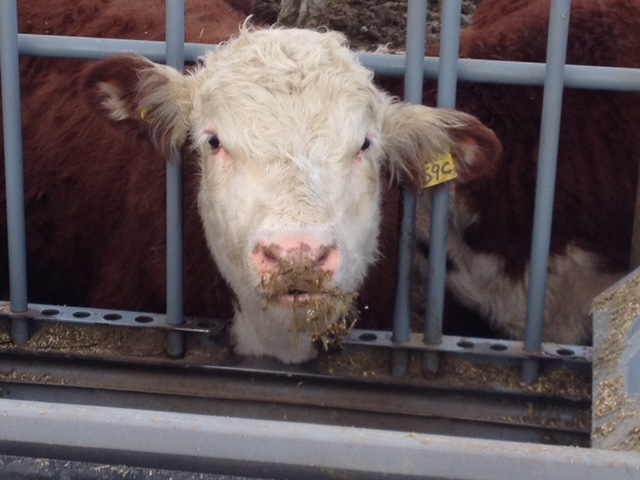 If you've spent any time at a feedlot or on a cattle ranch, you might have noticed the numbered ear tags worn by each animal. More than a simple numbering system, these tags are sophisticated tagging and tracking devices that contain detailed, up-to-the-minute information about each individual animal.
Radio Frequency Identification (RFID) tags are part of an industry-driven program, administered by the Canadian Cattle Identification Agency, and have many different purposes, such as age verification and traceability. But they are helping with more than just tracking. At Cattleland Feedyards, RFID tags are an integral component of a Residual Feed Intake (RFI) research program being conducted in their Integrated Beef Research Station (IBRS).
To learn more, we spoke with Sarah Van Schothorst, a research assistant at Cattleland:
Q: How is RFID technology used to monitor cattle feeding?
Sarah: Here at Cattleland, we use a feeding system created by GrowSafe Systems to measure individual feed intakes. Each animal eats at a feed bunk, which is a large feed tub on weigh bars, or load bars, which measure the food given. The system automatically reads the tag and starts collecting data on the amount consumed. The data is wirelessly transferred to a panel in the feedyard and then to a computer.
Q: Why is it important to measure intake in this way?
Sarah: We use the technology to help us monitor the feed efficiency of potential breeding bulls. We are able to determine which animals are gaining weight while eating less, through the calculation of feed to gain ratios. This is called 'residual feed intake', and it's an inheritable trait. Having technology available that allows us to monitor individual intakes allows us to select genetic lines that will be more cost effective and more environmentally friendly due to less consumption of resources during the animal's production life.
The technology also allows us to identify individual animals with reduced intakes, leading to earlier detection of animals that will need treatment.
Q: Who monitors the data, and what actions might follow?
Sarah: This technology is fairly labour intensive. GrowSafe Systems monitors all of their systems and records the data for each trial, and for each cattle pen. At Cattleland, I work with the GrowSafe support team to ensure that the animals are in the best condition, feeds are delivered properly, and the system is in working order by doing necessary maintenance and any repairs. The bunks need to remain clean and the load bars free from debris that may affect weighing of the feed or data collection.
Q: How long has this technology been used?
Sarah: GrowSafe Systems developed the technology in Canada starting in the mid- to late 90s. Cattleland implemented its use in 2002-2003.
Stay tuned for upcoming posts where we will continue our technology theme, and look at other ways innovation is helping make the cattle feeding industry more efficient and more sustainable.
https://cattlefeeders.ca/wp-content/uploads/2016/10/Growsafe-front.jpg
480
640
Team
/wp-content/uploads/2020/02/ACFA-web-logo.png
Team
2016-10-13 11:29:21
2020-01-28 14:24:51
How technology is helping improve feedlot efficiencies