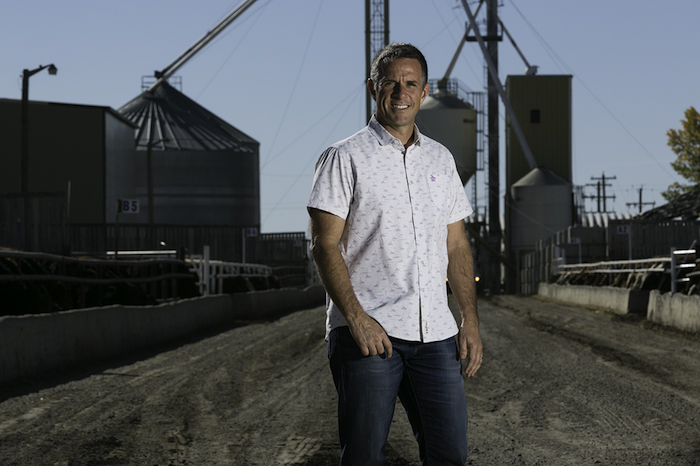 Here at the Alberta Cattle Feeders' Association we couldn't truly represent the interests of our industry without input from our board of directors. Comprised of the men and women who work in the cattle feeding industry every day, our board helps provide direction for all our activities.
For this week's post, we sat down with Ryan Kasko, CEO of Kasko Cattle Company in Coaldale, Alberta, and vice-chair of ACFA's board of directors, for another installment of our meet the team series.
Ryan grew up just outside Coaldale, the son of a cattle dealer, but it wasn't until after graduating from the University of Lethbridge, with a bachelor of management degree, that he became involved in the industry himself. At that time he joined his father's business, and two years later they decided to buy a feedlot together.
That was 20 years ago, and Kasko Cattle Company now has feedlots in four different locations. As it has expanded, it has also provided opportunities for other family members – Ryan's wife, Shannon, is the office manager, and his brother and brother-in-law, and their wives, also work in the business.
"It's an exciting industry to be in," said Ryan. "The technologies we are using today are really sophisticated, and we've made significant improvements over the last 20 years, in the way we manage people and how we take care of the animals – it's an industry that's just been constantly changing and it's great to be a part of that change."
Helping the ACFA represent a changing industry to the government
Ryan has been on the ACFA board for five years now, a responsibility he takes very seriously. "It's important to serve the industry," he said, "and I've done that in different organizations through the years. I think the ACFA does a very good job representing cattle feeders in Alberta and I thought it was important I take my turn."
"There's been a lot of things going on recently," continued Ryan. "New laws around labour standards and safety, and initiatives like the carbon tax have significant impacts on our operations. The ACFA works with government to help them understand the industry, and what we do every day – to help them make decisions that are going to work for our industry and the people involved in it. As a board, we help provide the association with direction."
The Kaskos at home
With four children – one in middle school, two in high school and one in his first year of college – Ryan and his wife have a very busy family. They enjoy watching basketball together, and while his kids also play, Ryan says that watching is enough for him. For stress relief, though, he plays squash and competes in triathlons.
In other posts in our meet the team series, we introduced you to Bryan Walton, CEO, Page Stuart, past board chair, Martin Zuidhof, board chair, Casey Vander Ploeg, manager of policy and research, and Jennifer Brunette, manager of events and member services.
https://cattlefeeders.ca/wp-content/uploads/2018/01/ryan-kasko-resized.jpg
466
700
Team
/wp-content/uploads/2020/02/ACFA-web-logo.png
Team
2017-02-09 13:00:10
2020-01-28 14:24:38
Meet the team: Ryan Kasko, vice-chair of the board