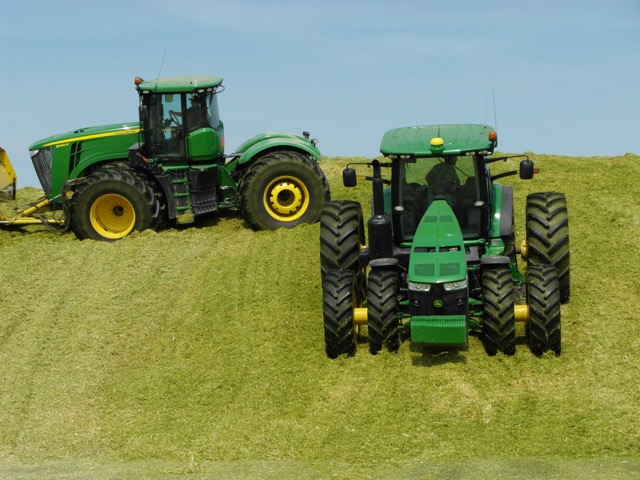 Farm safety is a hot topic, and one that's highly personal for many people in this industry.
As we discussed in 'How the agriculture sector is pulling together to promote farm safety', farm safety is unique in many ways. For instance, in no other industry do operators typically live and raise their families in the same place where they work. And in many instances, their employees are their family, friends and neighbours.
And yet, farming is one of the highest risk occupations in Canada. According to Alberta Agriculture, Food and Rural Development, there were an average of 17 farm-related deaths per year, between 1985 and 2010.
To put that number in perspective, it's worth noting two things:
Farm injury statistics do not differentiate between work related injuries on farms, and non-work related injuries.

Because agriculture plays such a large role in Alberta's economy and there are so many farms,

 the ratio of fatalities to the number of farms is one of the lowest rates of any province in Canada.
Is legislation the answer?
In Alberta, agriculture was exempt from provincial Occupational Health and Safety (OHS) legislation, but Bill 6 has changed that. OHS now applies to agriculture in Alberta. But there is dispute as to whether simply passing such legislation is really effective in reducing farm injuries. In provinces such as B.C., which included agriculture in OHS legislation in 2005, and Ontario, which did the same in 2006, there has been no significant impact.
In fact, in 2013, 42 per cent of Canada's farm fatalities were in Ontario, on just 25 per cent of the nation's farms.
Creating a culture of safety
If legislation has not proven to be the answer, then perhaps the solution must come from within the industry itself. We believe that reducing on-farm injuries and fatalities depends on creating a culture of safety that is built collaboratively by everyone involved in the industry.
This view is supported by recommendations made to the Minister of Alberta Agriculture and Rural Development (PDF), by the Farm Safety Advisory Council in 2012. They advocated the establishment of a province-wide coordinating body to provide leadership, expertise and direction for farm safety awareness, education, training and certification.
Among their recommendations were an increase in educational resources, training and certification, as well as industry best practices, and government guidelines and policies.
What is safety culture?
Just as corporate culture can be defined by the values, beliefs and attitudes of people within an organization, so safety culture is characterized by the pervading behaviours and attitudes towards safety.
When organizations start to value safety as a practice, and to develop the practices and protocols in support of safe behaviours, then everyone within that organization is safer.

Some recent or ongoing farm safety initiatives with which the Alberta Cattle Feeders' Association has been involved include:
For more information, check out the Farm Safety Advisory Council's Recommendations to the Minister of Alberta Agriculture and Rural Development, on Enhanced Farm Safety Education and Training.
Stay tuned as we continue to explore farm safety issues in upcoming blog posts. In the meantime, you can read our previous posts on the topic: 'How safe is farm equipment', and 'How the agriculture sector is pulling together to promote farm safety'.
https://cattlefeeders.ca/wp-content/uploads/2016/09/5-Sliage-copy.jpg
480
640
Team
/wp-content/uploads/2020/02/ACFA-web-logo.png
Team
2016-09-22 13:58:21
2020-01-28 14:24:52
Why farm safety starts with people