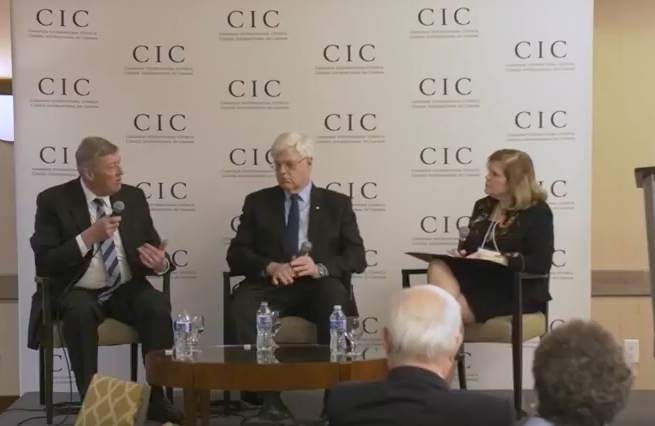 Canada's beef producers rely on international trade to keep their industry growing in a global economy. That's why the National Cattle Feeders' Association (NCFA) was thrilled when the Government of Canada announced it has reached a trade deal with ten of Asia-Pacific's fastest growing economies.
The Comprehensive and Progressive Trans-Pacific Partnership (CPTPP) will provide tariff-free and/or competitive access to key markets in the Asia-Pacific region. It is to be signed in March and must then be ratified by the Canadian Parliament and by the governments of the ten other member countries.
We spoke with Claire Citeau, executive director of the Canadian Agri-Food Trade Alliance (CAFTA), to learn why the agreement is so important for Canada's agri-foods producers, including beef producers.
"Overall the CPTPP will reduce tariffs and non-tariff barriers, open new, growing markets for Canadian agri-food products, and support jobs and prosperity here at home," said Claire. "It will provide the sector with unprecedented access to the important Japanese market and rapidly growing Asian markets like Vietnam and Malaysia.
"The 11 countries in the CPTPP region include some of our main export markets, including Japan and Mexico, as well as seven new countries," continued Claire. "Japan in particular is the big prize as it is our third export market and a high value market for Canadian agriculture and agrifood  – it is the largest economy in the CPTPP region, and the third largest in the world. Vietnam and Malaysia are other countries that could represent expanding markets."
Some of Canada's main competitors, such as Australia, have free trade agreements with countries in this region, which has given them a huge advantage over Canada when it comes to exports. The CPTPP will help to level the playing field.
Since the U.S. dropped out of the Trans-Pacific Partnership, and does not have free trade agreements with Japan, CPTPP will give Canadian producers a distinct advantage over the U.S. in the Japanese market.
Why speedy ratification is crucial
John Weekes, senior business advisor at Bennett Jones, former ambassador to the WTO and Canada's chief negotiator for NAFTA, said he attributes Japanese leadership to TPP coming back to life again as the CPTPP – because they saw it as an important way to fill the vacuum that was left in the Asia-Pacific area when the U.S. retreated from the original TPP negotiations early in 2017. The Japanese came to the conclusion that it would be important to have a trade agreement with the sort of provisions that are in the CPTPP, in that part of the world. If Canada had turned its back on CPTPP, we could have faced not having a trade agreement with the Japanese for at least a decade.
John Weekes speaking at a Canadian International Council event in Ottawa on February 12, 2018.
When addressing attendees at the Alberta Beef Industry Conference in Red Deer on February 23, 2018 John stated,
Canada should approve CPTPP in parliament as soon as possible so we get in on the ground floor on tariff reductions and secure lower tariffs as quickly as possible.
Claire Citeau explained that the CPTPP will enter into force 60 days after at least six members ratify it. "We may lose the 'first mover advantage' if Canada is not among the first countries to ratify," she said. "If our competitors ratify and implement the CPTPP before Canada, they will benefit from the initial rounds of tariff cuts and we won't, putting us at a further disadvantage."
"Having better and more competitive access to markets like Japan will create further growth and help create jobs in urban and rural areas in Canada," concluded Claire.
Stay tuned for future blog posts, in which we will keep you updated on the ratification process.
https://cattlefeeders.ca/wp-content/uploads/2018/03/screen-shot-2018-02-27-at-10.49.41-am.png
426
655
Team
/wp-content/uploads/2020/02/ACFA-web-logo.png
Team
2018-03-23 09:00:39
2020-01-28 14:23:48
New partnership gives a boost to transpacific trade