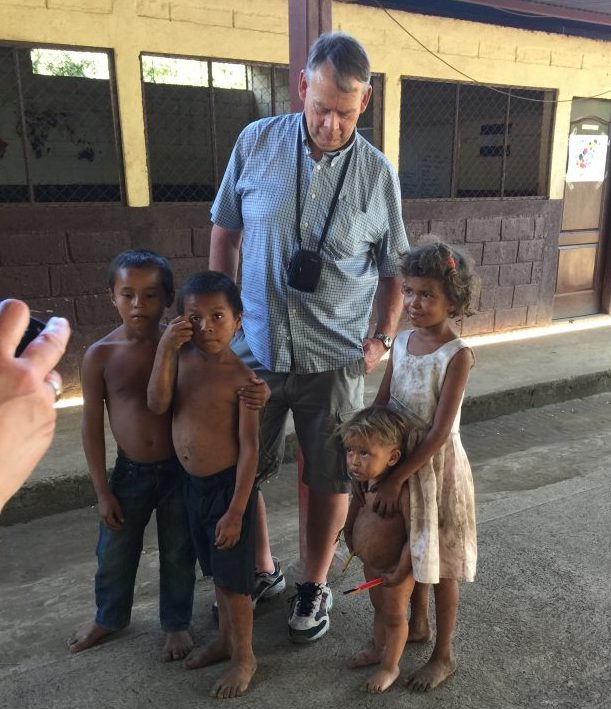 This is the second post in our volunteer spirit series – a look at the generosity that is so strong among Alberta's cattle feeders.
This week we caught up with Martin Zuidhof, ACFA's board chair. Martin and his wife, Annette, recently visited Nicaragua to help build three new classrooms for a school in the capital city of Managua.
Martin explained that the trip was somewhat spur of the moment: "I was having dinner with my two sisters and two brothers-in-law, just after Christmas," he said. "One brother-in-law was planning his seventh volunteering trip, and he suggested we should all go together. It seemed like a great idea, and we decided to try and go as soon as possible." The group ended up going with just two weeks' notice.
The school they worked on already existed, but had six classrooms for 345 students. Because school was in session at the time, the group of volunteers worked with an audience of teachers and children. "The students would watch us from their own classrooms and I could just imagine the teacher telling them 'get your educations otherwise you're going to be like those North Americans who come down here to get out of the cold – this is the best they can afford,'" he joked.
Even though the work was backbreaking, and the sun hot, Martin found the experience very rewarding.
"We had to hand-dig holes with picks and shovels, and there was lots of rebar to tie. It was hot, and after the first hour or two I really wondered what I was doing there. But you get used to it, and the teachers were very appreciative," he said.
"The kids put on a little program for us at the end, and the principal said it means so much that people would come and do this rather than taking a summer vacation, because the key to their future is getting more of their children educated."
Fortunately, the trip wasn't all work. Martin said they enjoyed their evenings in the town, and had time for some sightseeing.
You can read about a trip taken by another of Alberta's cattle feeders in 'Alberta's volunteer spirit shines among cattle feeders: meet Jacob Bueckert.' In future posts we'll introduce you to some more of our industry members who epitomize Alberta's generosity.
https://cattlefeeders.ca/wp-content/uploads/2017/04/nicaragua-2017-510-e1493309907798.jpg
709
611
Team
/wp-content/uploads/2020/02/ACFA-web-logo.png
Team
2017-04-27 13:00:25
2020-01-28 14:24:21
From cattle to classrooms: how cattle feeder Martin Zuidhof is giving back