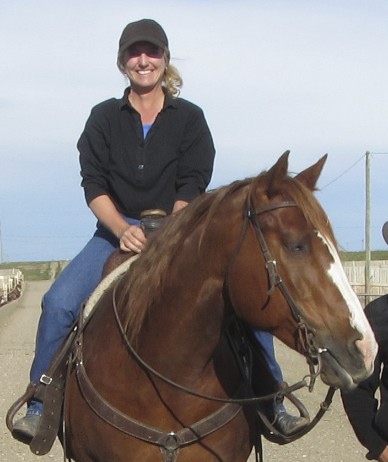 This is the second in our feedlot people series, and this week we meet Dr. Lynn Locatelli from Cattlexpressions. Lynn hails from New Mexico, U.S.A., but she's a familiar sight in Alberta, where she consults with feedlots and other cattle operations on low stress cattle handling.
Lynn grew up in California where her family owned a mixed agricultural operation, including a vineyard and walnut orchard. She always knew she wanted to be a large animal vet, and completed her training at U.C. Davis in California.
Why cattle? "It's hard to beat the one on one bonds we form with animals," she said. "At first we form those bonds with a dog, and then as we get a little older it's with a horse, and it's tremendously rewarding to have a connection with a herd of animals. You get to a point where one person can move hundreds of cattle through large, rough pastures and into and out of corrals."
Working in Nebraska, she was fortunate to find herself living close to Bud Williams, a well known cattle handling expert, who practices and teaches low stress methods for moving cattle. "If there was any such thing as a cow whisperer, it was him," she said. "He's moved caribou for the Alaskans, he's moved feral cattle off the Aleutian Islands on barges. Quite a remarkable man with incredible skill."
Lynn worked with Bud, studying his methods and learned everything she could about understanding and working with cattle. Today she is an international authority on low stress cattle handling, and she travels North America consulting with cattle operations of all types.
"I like to think of it as the language of the bovine," Lynn explained. "When several people are working together as a team on a feedlot, it makes it much more efficient if we all speak the same language. Cows don't understand the words, but the patterns in which you work, and walk, and ask them to do things, they understand completely."
Lynn was instrumental in helping to develop the new Feedlot Animal Care Assessment Tool and says that those feedlot operators who embrace low stress animal care techniques should have no problem breezing through the audit process.
Lynn loves her work with cattle people. "It's worth all the hard work, and the hot days and the cold days and the snow days and everything  else when cattle and people work well together. Then everybody's happy."
When Lynn is not traveling and consulting, she loves to be at home with her guy, riding her horse down to the river or in the mountains outside Santa Fe.
Check out the first in our feedlot people series, in which we met Joyce Van Donkersgoed, a veterinarian from Picture Butte, Alberta.
https://cattlefeeders.ca/wp-content/uploads/2016/06/L-Locatelli.jpg
462
388
Team
/wp-content/uploads/2020/02/ACFA-web-logo.png
Team
2016-06-23 10:57:23
2020-01-28 14:25:06
Feedlot people – veterinarian Lynn Locatelli