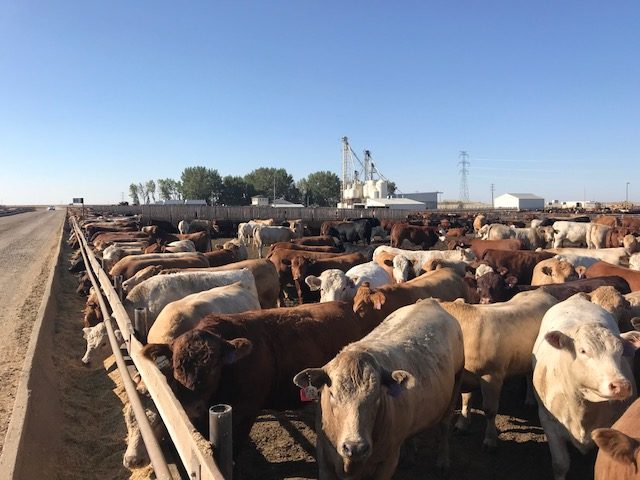 Image Credit: KCL Cattle Company Ltd.
Eating well is no simple matter. Our global marketplace offers a world of choices, and the information available on those food choices can be contradictory and complicated. In today's blog post we explain the difference between grass-fed and grain-finished beef and explore their nutritional values and environmental impacts.
Grass-fed and grain-finished beef explained
All cattle eat grass and forage for most of their lives. This means they graze in the pasture during the summer months and are then fed forages such as silage (fermented grass crops) or hay during the winter.
Some cattle are grass- and forage-fed for their entire lives.
Other cattle are slowly moved to a diet consisting of grains such as corn or barley, for about three or four months before they go to market. This diet helps the cattle put on weight faster, and produces a higher quality, more marbled meat. This generally takes place in a feedlot.
A nutritional comparison
According to Canada Beef, grass-fed beef is leaner than grain-finished beef by about two to four grams of fat per 100 grams of trimmed meat. Dietitians agree this is an insignificant amount in the context of the amount of fat we consume on a daily basis. 
Both types of beef contribute nutrients such as iron, zinc, vitamin B, calcium and potassium, as well as small amounts of omega-3 fatty acids, and both contain the same amount of cholesterol.
You can read more about the dietary impacts of beef in your diet in '4 ways proposed changes to the Canada Food Guide could be bad for our health'.
Environmental impact
Beef production, perhaps surprisingly, benefits the environment in many ways, because the industry is helping preserve Canada's natural grasslands. Pastures help maintain watersheds, sequester carbon, prevent erosion, support biodiversity and provide habitats for a variety of different species.
That being said, grain-finished beef has a lower carbon footprint than grass-fed beef because of the higher efficiency of this finishing method. Grass-fed cattle are typically harvested at between 20 to 24 months of age, and at a weight of 1,000 to 1,400 pounds. Grain-fed cattle, on the other hand, are harvested at about 14 to 18 months of age and at a weight of about 1,400 to 1,500 pounds. 
Because the grain-finishing phase is so much more efficient than grass-finishing, resulting in more food in less time, grain-fed beef has a lower carbon footprint than grass-fed.
'4 things you should know about beef production and the environment' explains more about the environmental impacts of the beef industry.
https://cattlefeeders.ca/wp-content/uploads/2018/09/cattle-eating-grain-e1537465298758.jpg
480
640
Team
/wp-content/uploads/2020/02/ACFA-web-logo.png
Team
2018-09-20 13:00:33
2020-01-28 14:23:31
Is grass-fed beef better?