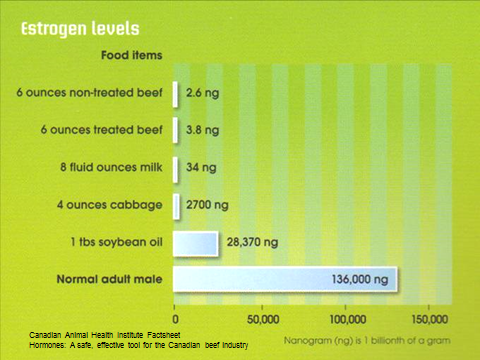 Last week on this blog we busted some common myths around beef production, including the 'hormone-free' myth. This week, we offer more facts about hormones and beef.
Foods and hormones
Dr. Roy Lewis, a veterinarian at Westlock Veterinary Center in Westlock, AB, told us that roughly 98 per cent of cattle in Canada are implanted with hormones, but in quantities significantly lower than would be naturally present in an intact (uncastrated) bull.
"In fact," he continued, "many healthy, nutritious foods contain more hormones, serving for serving, than beef – foods such as cabbage, eggs, alfalfa sprouts and soy".
No one would suggest eliminating these healthy food options because of their naturally occurring hormones, and yet beef contains considerably less.
Research has also shown that hormones consumed in food are broken down in the stomach during digestion. They do not result in hormone spikes, even when consumed in high levels.
The environment and hormones
Cattle are implanted with hormones to promote growth. "This allows beef producers to produce more beef using less grain, less water and less time," said Dr. Lewis. "The environmental benefits of producing more with less are significant."
How marketing creates misconceptions
"There is no such thing as 'hormone-free' beef," said Dr. Lewis. "All animals and plants produce hormones as part of their natural life-cycle.
The 'hormone-free' movement is a marketing scheme that attempts to create a differentiation that doesn't exist. It seems to me that we're taking a step backwards to promote this as something special, because there are no food safety benefits, and they're suggesting that a less sustainable production method is somehow superior.
You can learn more about beef hormones, and read about food safety research on Alberta Beef's Worried about Hormones? web page.
Check out the other myths we addressed in 'Busted! 5 beef myths that don't stand up to the facts'.
https://cattlefeeders.ca/wp-content/uploads/2018/02/estrogen-levels-1.png
360
480
Team
/wp-content/uploads/2020/02/ACFA-web-logo.png
Team
2018-02-01 13:00:40
2020-01-28 14:23:49
Why 'hormone-free' beef is no better for people or the environment