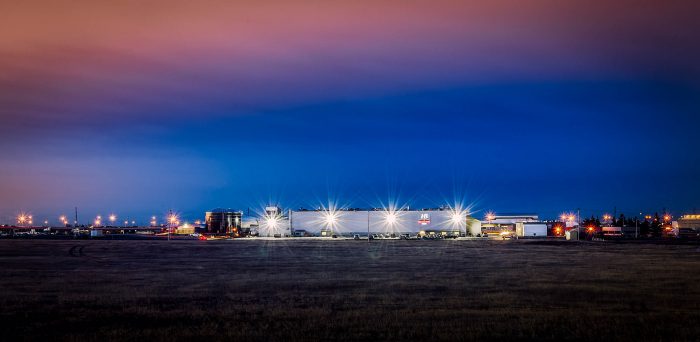 Last week on this blog, we learned about the food safety innovations at Harmony Beef's new processing plant. This week we're exploring the new standards of animal care being practised at the plant.
We visited the plant and spoke with Harmony's director of marketing, Cam Daniels to learn more. "One of the most important things in our business – and this came right from the owners – is that we must respect the animals that feed us," said Cam. "They are treated with respect and dignity for the entire time they are with us."
Warm dry barns keep the animals relaxed and calm
The high standards of animal care at Harmony Beef start with a covered, temperature controlled barn. Some of the barn's features include:
A water vapour management system that keeps the barn comfortably dry at all times, and helps eliminate odours

Heated, slip-resistant floors that are well-drained so they remain dry and clean

Access to clean, fresh drinking water at all times, in every pen
"Animals that come in together are always kept together, to minimize the stress of new surroundings", said Cam. "And we don't keep any animals overnight – we only take in as many as we can process that day. It's all part of keeping them as relaxed and calm as possible while they're here."
How a cow's natural movement helps minimize stress
At Harmony Beef, the corral that brings the animals up to the harvest box follows a serpentine shape. "It's influenced by the work of Dr Temple Grandin," said Cam. "Cattle naturally tend to walk in an 's' and by allowing them to follow a natural pattern, it helps keep them moving, while also keeping them calm.
As the cattle move along the corral, they are gently nudged with paddles, rather than electric prods. A doorway allows only one animal at a time into the harvest box, ensuring the other animals stay relaxed until the end.
Better animal care leads to higher quality
Aside from the fact that treating animals well is the right thing to do, there is also a very practical reason why animal welfare matters. Glycogen in the muscles of relaxed animals is converted into lactic acid, which is necessary to produce tasty, tender meat. Stress causes the glycogen to be depleted, and the meat tends to be darker, dryer and less tender. So meat from a relaxed, calm animal is of a higher quality.
Check out last week's post to find out how Harmony Beef is setting new standards in food safety. And stay tuned for an upcoming post in which we will learn about the lengths to which they have gone to minimize their impact on the environment.
https://cattlefeeders.ca/wp-content/uploads/2017/11/plant-picture-e1510859549864.jpg
342
700
Team
/wp-content/uploads/2020/02/ACFA-web-logo.png
Team
2017-11-16 13:00:49
2020-01-28 14:24:04
How respect for the animals that feed us aligns with beef cattle production