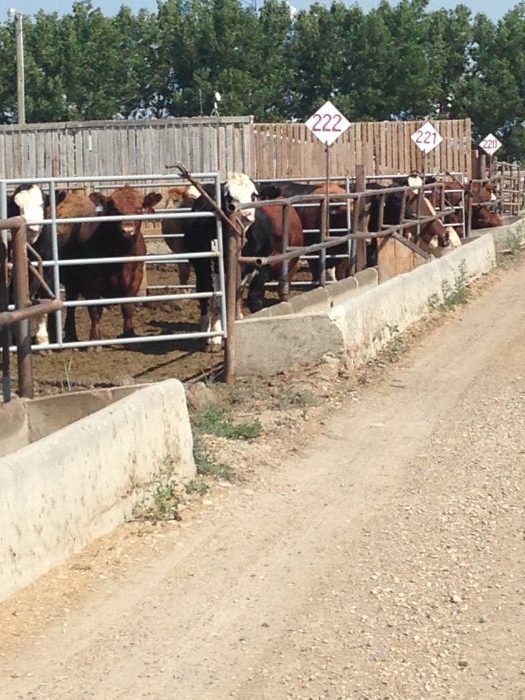 Alberta's cattle feeders take great pride in the crucial role they play in producing our province's world class beef – and in using responsible and sustainable production methods.
Here at the Alberta Cattle Feeders' Association (ACFA), we support our members in continuous improvement under four pillars:
Alberta's cattle feeders believe in treating the animals that feed us with care and respect. They follow the National Beef Code of Practice to ensure the finest in animal care, food safety and sustainability.
Two key programs that help them maintain the highest standards of animal care are:
-The Feedlot Animal Care Assessment Program
-The Canadian Livestock Transportation Certification
Ensuring the health and well-being of livestock is a top priority for feedlot operators. ACFA is heavily invested in helping through initiatives such as the new histophilosis vaccine, and through forage and feed grain research.
Cattle feeders work hard to minimize environmental impact from their operations.
ACFA has participated in several initiatives:
-The Feedlot Emergency Preparedness Plan which protects animals, the environment and human health in the event of an incident such as a disease outbreak or a natural disaster. 
-Environmental impact studies, such as Alberta Agriculture and Resource Development's Livestock Impact on Groundwater Quality in Alberta.
-Interaction with the Natural Resources Conservation Board on environmental initiatives.
-Membership of the Intensive Livestock Working Group and Agri-Environmental Partnership of Alberta.
Protecting people, and the communities in which they operate is important for cattle feeders. Food safety, farm safety and community service are at the centre of their everyday operations.
It is on these four pillars that Alberta's cattle feeders operate in the most responsible manner possible. They strive to ensure excellence in animal care, food safety, farm safety, and respect for people and their communities. At ACFA we are working hard to support them in those efforts.

https://cattlefeeders.ca/wp-content/uploads/2018/01/img_2725-e1500935828235.jpg
700
525
Team
/wp-content/uploads/2020/02/ACFA-web-logo.png
Team
2019-02-28 13:00:44
2020-01-28 14:23:09
The four pillars of responsible beef production