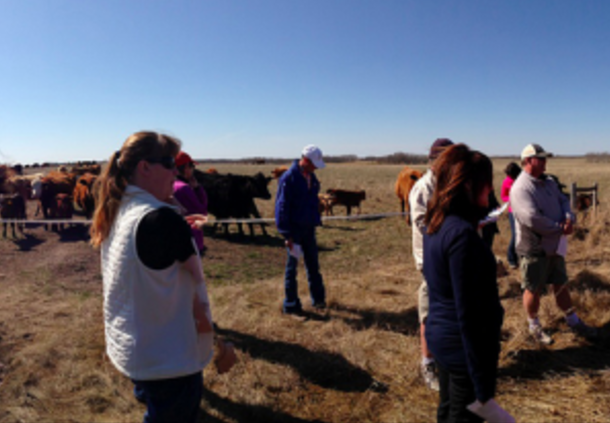 Producing food for a hungry world is an important job, and one farmers have been managing for generations. But today's farmers have considerations that didn't concern their predecessors – such as how to produce food while demonstrating their concern for the environment, and how to deal with a chronic labour crisis.
One organization is supporting Alberta's agriculture industry by introducing these considerations to grade school students. Inside Education is a not-for-profit organization dedicated to inspiring and engaging young stewards by incorporating environmental and natural resource education into their classrooms.
Kathryn Wagner, program director at Inside Education, explained that our society is often polarized about issues that matter most. "Our ability to balance a healthy environment with a productive economy demands a careful look at the range of values at play — the spectrum that lies between black and white," she said. "Our unique programs immerse learners into the big picture, giving them a balanced look at key issues. We challenge everyone to become responsible citizens by understanding the science, technology and issues that affect our world."
How Inside Education works
For over 30 years, Inside Education has been teaching students about the diverse natural resource topics and issues affecting the agriculture, energy and forestry industries. They have four program areas:
"It all culminates in us bringing current, accurate, locally relevant information, to teachers and students across Alberta, to complement the curriculum," said Kathryn.
"There are lots of different places where these sorts of topics align," she said, "from science and social studies to food systems, sustainability and careers."
Inside Education and cattle feeders
Inside Education works directly with more than 25,000 students every year, in 80-plus communities. In its recent agriculture program, 28 teachers participated in a feedlot tour so they could see firsthand what the industry looks like and what happens in a cattle feeding operation.
"Agriculture is such a fundamental topic of conversation here in the province – it guides our society, our economy, and our environment," said Kathryn. "If we can provide these experiences and this information to young people, then we will have young stewards who are ready to go on and shape what our agricultural landscape will look like for years to come."
Careers in agriculture
Organizations such as Inside Education could also play a role in helping alleviate the agricultural labour shortage. "There are so many misconceptions about what it means to work in agriculture," Kathryn explained. "Students may want to leave their communities, and we can show them opportunities available in their own backyards and how they can contribute to sustainable agriculture in Alberta."
In 2016, the Alberta Cattle Feeders Association (ACFA) attended Inside Education's Youth Summit, in Brooks, Alta., where junior high school students were introduced to careers in agriculture, including the cattle feeding sector. It's events like these that can help excite students about the many career opportunities in farming.
In earlier blog posts, we have written about other organizations or programs that are helping educate young people about the opportunities in agriculture, including Agriculture in the Classroom and Career Connections.
https://cattlefeeders.ca/wp-content/uploads/2017/08/screen-shot-2017-08-24-at-8.42.02-am.png
423
610
Team
/wp-content/uploads/2020/02/ACFA-web-logo.png
Team
2017-08-24 13:00:40
2020-01-28 14:24:20
How Inside Education is bringing agricultural insights to the next generation