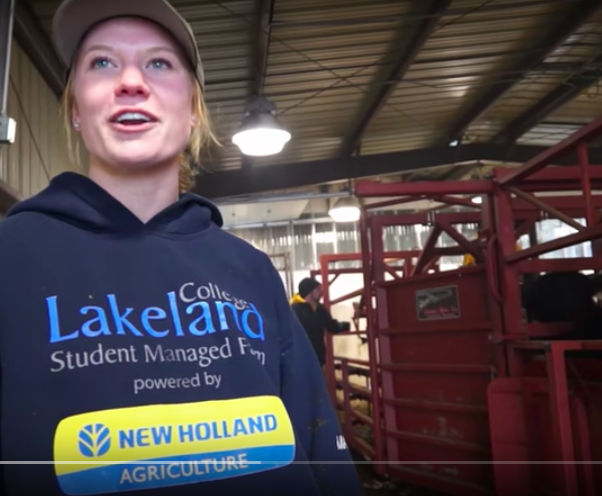 In part two of our agriculture education series, we're visiting the student-managed farm (SMF) at Lakeland College in Vermillion, Alberta.
Josie Van Lent, dean of Lakeland College's School of Agricultural Sciences, explained that the student-managed farm is a fully operating farm with multiple enterprises – crops, dairy, sheep, purebred beef, commercial beef and beef research.
Founded in 1913, Lakeland College was Alberta's first agricultural college. Its agriculture diploma programs include everything from agribusiness and general agriculture to animal science technology, veterinary medicine assistant and western ranch and cow horse (horses that work cows).
During the first year of the two-year program, students are able to benefit from the hands-on learning afforded by working on the various farms. At the end of the first year, they apply for management positions on their choice of operation. "They have to go through an interview process, just as they would for any other job," said Josie. "Then, based on their interview outcomes, they are divided into teams who manage such important farm business elements as production, finances, marketing, sustainability, public relations and advocacy."
Each team has a strong set of goals and objectives for their year, and all teams report to each other every week.
"Students learn more than just the obvious skills required by their industry," said Josie. "They learn professionalism, teamwork and communication," she said. "They must be able to think critically, and then get their point across to other members of the team. They learn how to run a productive meeting, how to advocate for their industry and how to create an environmental plan."
Decision-making for the beef producer
An example of the kinds of decisions the students must make and justify, is how to handle weaned calves. "Students must decide whether to keep them on the farm or sell them. They explore all the options, do break-evens, and work out where the best potential for profit lies," she said. "They're taking what they've learned in the classroom, and applying it in the real world, where they will then get to experience the consequences and outcomes."
Technology
The SMF has up-to-date technology thanks to sponsors and supporters, including New Holland Agriculture, Agri-Trend and Farmers Edge.
"Technology changes all the time, and we expose the students to it at every level of the farm," said Josie, "Customer support is excellent, and the students get the hang of new technology very quickly.
"I think, in many ways, the most valuable skills we're teaching them are the ones that don't change very much – skills like critical thinking, decision making, financial management and succession planning," Josie continued.
Lakeland College is hoping to supplement its two-year diploma program with a four-year degree program, accepting students from their own or other schools' diploma programs.
Check out the first article in our agriculture education series: 'How Olds College is preparing agriculture students for the future'.
https://cattlefeeders.ca/wp-content/uploads/2018/07/Screen-Shot-2018-07-12-at-1.04.16-PM.png
496
602
Team
/wp-content/uploads/2020/02/ACFA-web-logo.png
Team
2018-07-12 13:11:44
2020-01-28 14:23:32
How student-managed farming is teaching the next generation of beef producers