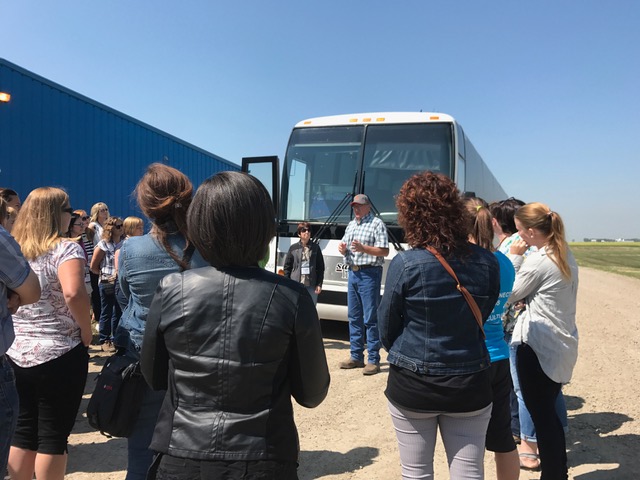 One day in mid-July, a group of people from across Canada, toured Chinook Feeders in Nanton, Alberta to get an on-the-ground feel for what goes on in a cattle-feeding operation.   
The group from Agriculture in the Classroom – an organization dedicated to enhancing the knowledge, understanding and appreciation of agriculture in everyday life – was just one of many such tours that happen at Canadian farms throughout the year.

An industry working together
Even though the people touring Chinook Feeders on that day were already involved in agriculture or food production, it's helpful for them to be aware of all the different types of agriculture being practised. What better way for them to become ambassadors for an industry that has so many career opportunities and possibilities for job seekers?
Karen Carle, the Alberta representative for Agriculture in the Classroom explained: "for this year's tour in Alberta, we wanted to highlight the diversity of the agriculture and agri-food industry. In addition to the feedlot, we toured a spin (small plot intensive) farm in Calgary, an oilseed innovation company, an elk farm and a honey producer. In addition, we held sharing sessions where we come together to collaborate and learn from initiatives going on in each province. This year we also had a public trust panel to learn from industry experts and explore the role ag education can play in building public trust."
Aside from the tours, Ag in the Classroom's primary activity is providing curriculum-based teaching resources to schools. Some of their initiatives include:
Canadian Agricultural Literacy Week

(CALW). More than 95,000 students and 3,500 classrooms have been visited by industry speakers and readers across Canada.

Development of a national high school teaching tool,

All About Food

, with a comprehensive fact book and accompanying interactive website, with

teacher guide

.
International Year of Pulses education components in partnership with

Pulse Canada

for 2016.
Ag in the Classroom uses these tools to help ensure that young people have complete, balanced information about the opportunities available to them in agriculture.
Why is it important to get agriculture into the curriculum?
Canadian farmers are dealing with a chronic labour crisis. There are many reasons for this, including rising retirement, the seasonal nature of the work, the often harsh working conditions and the long hours. Another reason is the tendency for young people to want to head for the cities after leaving school. Ag in the Classroom provides an opportunity for students to see the flip side of those factors and discover the many careers available and the opportunities that exist.
"Many teachers want their students to learn about agriculture, but without the right programs and resources to support them, they don't always know where to start," said Karen. "Ag in the Classroom is really about providing accurate, balanced, current and science-based information about agriculture and packaging it in a way that teachers can use in the classroom. With most people removed from life on the farm, and so much misinformation circulating online, Ag in the Classroom's role is more important than ever."
Another program that teaches students about careers in their rural communities is Career Connections, which we featured in 'How cattle feeders are helping create a future for young people in agriculture'.
You can read more about the agricultural labour crisis in '12 must-know facts about the agriculture labour crisis (and why it matters to Canadians)'.
https://cattlefeeders.ca/wp-content/uploads/2017/08/img_4272.jpg
480
640
Team
/wp-content/uploads/2020/02/ACFA-web-logo.png
Team
2017-08-10 13:13:17
2020-01-28 14:24:20
How farm tours can help the agriculture labour crisis