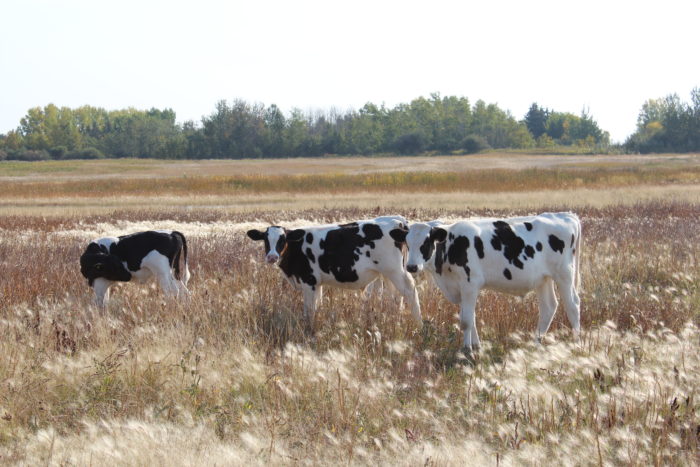 Have you ever heard people say that eating meat is bad for our environment and our planet? In this latest Myth vs Fact post, we're exploring some common misconceptions about beef production, so you can eat that next steak with a clear conscience.
#1 Beef cattle are a major contributor to greenhouse gas emissions
Cattle account for only 2.4 per cent of Canada's total greenhouse gas (GHG) emissions – compared to 28 per cent for transportation. Cattle in Canada also produce some of the lowest GHGs in the world thanks to best practices developed through ongoing research. 
#2 We don't need to eat meat – we can simply substitute it with plant proteins
Plant proteins such as beans and lentils are wholesome, nourishing foods. But it is wrong to assume that they can provide the same amount of protein per unit of food as beef. One 75 gram (2.6 ounces) serving of beef contains the same amount of protein as about two cups of beans. The plant-based protein is also not as easily digested and is missing important nutrients such as Vitamin B12 and heme iron – the type of iron most readily absorbed by the body.
Like beef, plant proteins have an important part to play in a balanced diet, but they cannot be compared, portion for portion, as a substitute.
#3 We need to eliminate beef production for the sake of the environment
Eliminating beef production would help reduce our GHG emissions by a small amount, but there are other significant reasons why pastureland is good for the environment:
Only 26 per cent of our native rangelands remain intact in Canada, and those would be lost without grazing animals to maintain their health. As an ecosystem, those grasslands support biodiversity and help retain water.
Grasslands provide important habitats for migratory birds, species at risk and other wildlife.
Grasslands store carbon, which would be released into the atmosphere if they were cultivated.
The relationship between cattle and wildlife is recognized by the World Wildlife Fund in its '2017 Annual Plowprint Report'.
#4 Feeding cattle is a waste of resources that should be used to benefit people
Cattle and other grazing animals in Canada are typically raised on land, and fed foods that might otherwise be unusable:
Most pastureland is unsuitable for crop production.
86 per cent of all cattle feed in Canada is not fit for human consumption.

 

Only nine per cent of cropland in Canada is used to grow grain specifically for cattle feed.
Food animals also play a huge role in recycling the by-products of human food production. For instance, cattle are fed the leftover grains from the production of beer, whiskey and other alcohols, which would otherwise be considered waste.
#5 Our food production is being taken over by huge, corporate factory farms
Ninety-eight per cent of Canadian farms, both large and small, are owned and operated by families. Some have been in the family for five or more generations. These farmers have been raised on the land, and they care deeply about preserving it for their own children and generations to come. 
They work hard to raise their animals in comfortable, low-stress environments. 
They understand that if animals are unhealthy or stressed they will not grow to their full potential. Even in an intensive livestock setting, healthy, well cared for animals help ensure the health of the operation.
So, next time you're at the grocery store, wondering what to make for dinner, you won't do better than a good serving of Canadian beef. It's good for you, and raised ethically, sustainably and humanely.
For more in our Myth vs Fact posts, check out '3 feedlot myths busted' and 'Busted! 5 beef myths that don't stand up to the facts'.
https://cattlefeeders.ca/wp-content/uploads/2018/09/IMG_3413-e1536340387826.jpg
467
700
Team
/wp-content/uploads/2020/02/ACFA-web-logo.png
Team
2018-09-07 11:25:31
2020-01-28 14:23:31
Myth or fact? 5 beef myths debunked