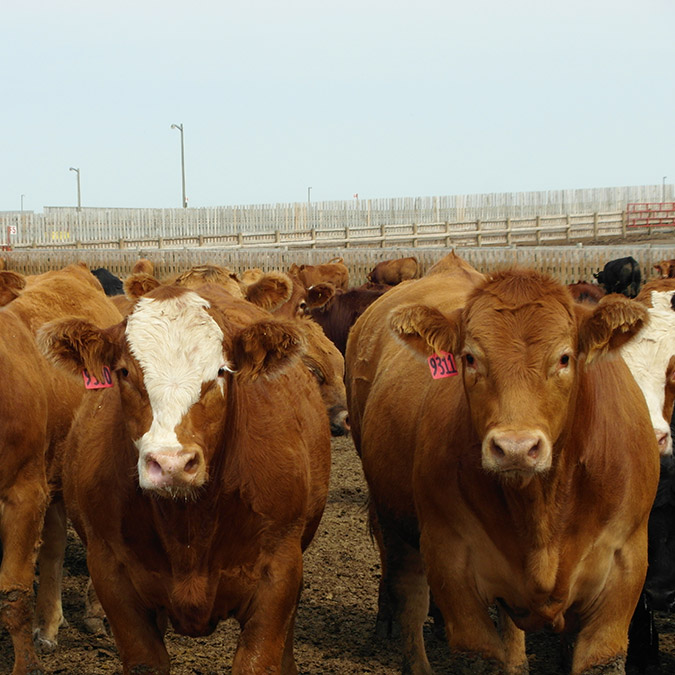 We know that livestock contribute to GHG emissions. What we don't know for sure, is exactly how, or to what degree. In this blog post we're taking a look at a recent study designed to close some of the gaps in our knowledge.
In March of this year, Agriculture and Agri-Food Canada in Lethbridge wrapped up a two-year research project, funded by the Alberta Livestock and Meat  Agency (ALMA). The project is helping us understand more about ammonia and related emissions from feedlots, so that the industry can adjust accordingly, and more knowledgeably inform public policy. 
Why research was needed
For this two part blog series, we sat down with Dr. Sean McGinn of Agriculture and Agri-Food Canada, to ask about the study. Sean explained:
"We know beef feedlots are 'hot spots' of ammonia emissions on the landscape, but we didn't know as much about the dynamics of those ammonia emissions. For example, we didn't have real numbers from actual feedlots on how much is emitted, how much is deposited on nearby soil and how much re-emission occurs when that happens."
When it comes to setting public policy and ammonia emissions targets, it makes sense that having accurate numbers is the only way to ensure that environmental issues are properly addressed while representing the feedlot industry fairly.
What we do know
Some of what we currently know about feedlot emissions includes:
50 to 60 per cent of feed nitrogen is lost as ammonia at the feedlot.

Eight to 10 per cent of Canada's greenhouse gas emissions are from agriculture.

90 per cent of atmospheric ammonia comes from agriculture, and most of that is from cattle manure.
This is a problem because ammonia in the atmosphere is a potential health hazard and it also represents an economic loss to farmers because the nitrogen fertilizer potential of manure is lowered.
What the project studied
Sean and his colleague Dr. Tom Flesch, from the University of Alberta, set out to investigate what happens to nitrogen in feedlots, how much is deposited on land immediately downwind and how much is carried long distances.
As well as ammonia, they measured methane and nitrous oxide, two prominent greenhouse gasses. Methane is produced by cattle during anaerobic digestion of feed in the cow's rumen (stomach) and both nitrous oxide and methane come from stored manure in the pens.
Adapted technology
The technology used to measure the emissions was adapted from technology used to measure flare emissions in the oil and gas industry. It uses lasers that move over the feedlot, calculating ammonia concentrations, while also taking current wind conditions into account.
Measuring out in the feedlot is an improvement over previous research methods which have used animals in individual chambers. The new protocol provides a much more accurate picture of what happens to ammonia and other gases in the real world of the feedlot.
Moving forward for cattle feeders
Stay tuned for next week, when we'll explore the early results of the study, and look at how cattle feeders can make their operations more sustainable. In the meantime, check out this earlier post 'What do you know about cows and GHG emissions?'
https://cattlefeeders.ca/wp-content/uploads/2017/05/the-feed-agriculture-albertas-ecomomic-backstop-thumb.jpg
675
675
Team
/wp-content/uploads/2020/02/ACFA-web-logo.png
Team
2017-05-19 10:30:54
2020-01-28 14:24:21
From oil and gas to bovine gas, measuring GHG emissions is an important part of setting targets