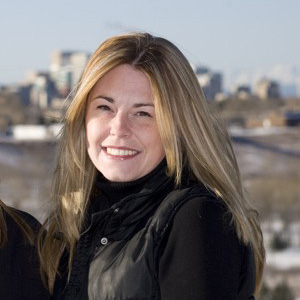 For any industry association, getting its members together in one place can be a monumental task. Here at ACFA that task falls to Jennifer Brunette, our manager of events and member services. This week on our meet the team series, we're going to get to know a little about Jennifer and her work.
Before joining ACFA, Jennifer studied event management and public relations at Mount Royal University, and her training has stood her in good stead. She plays an instrumental role in ACFA's day-to-day operations, as well coordinating events such as Big on Beef, our annual golf tournament, and – most importantly – the Alberta Beef Industry Conference.
The conference is hosted in conjunction with the Alberta Beef Producers, the Alberta Livestock Dealers and Order Buyers Association, the Alberta Auction Markets Association and the Western Stock Growers Association, and Jennifer does a great job of pulling together an event that unites beef producers, processors and suppliers from Alberta and around the world.
"I love dealing with our suppliers and producers," said Jennifer. "I get to work with such a diverse group of people, and reach out to a lot of industry stakeholders. I take a great deal of pride in making sure that we showcase our sponsors and participants at the highest level possible."
Jennifer grew up around ranch operations and feedlots, and yet her journey to this industry was not a direct one. As a teenager in Oliver, B.C., she went from high school into a position with a local credit union. Her career was going well, and she didn't anticipate any reason to change.
But then Jennifer had an accident that put a wrench in her plans. After being involved in a pedestrian/motor vehicle accident, she was told that she might never walk again, and so began seven years of intensive therapy and the greatest challenge of her life.
"I was 21 when it happened, and that accident took a chunk of my youth," said Jennifer. "I persevered through years of intensive therapy. Regaining the ability to walk on my own two feet has been one of the biggest achievements of my life. It has also given me the ability to approach life with passion and determination; I no longer take the simplest things for granted."
Now Jennifer lives in Calgary with her husband and her two boys, aged three and six.
We asked Jennifer for one final word about her work with cattle feeders and the association – "Everyone who works in this industry is very passionate and driven to move the industry forward in a positive light. Our members and board are such an amazing group of people. I have great respect and admiration for the work they do, not only for the industry but on their own operations as well," she said.
Check out these other posts in our meet the team series, in which we introduce Bryan Walton, CEO, Page Stuart, past board chair, Martin Zuidhof, board chair, and Casey Vander Ploeg, manager of policy and research.
https://cattlefeeders.ca/wp-content/uploads/2016/09/ACFA-staff-Jennifer-Brunette.jpg
300
300
Team
/wp-content/uploads/2020/02/ACFA-web-logo.png
Team
2016-09-29 13:00:15
2020-01-28 14:24:52
Meet the team: Jennifer Brunette, manager of events and member services