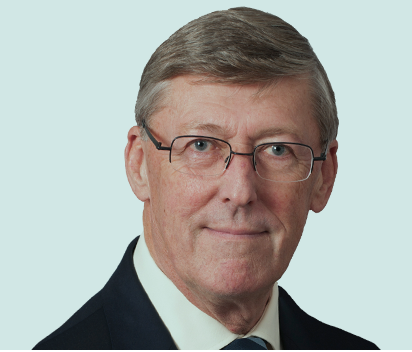 John Weekes, an independent business advisor who has worked with the National Cattle Feeders' Association (NCFA) on trade issues, is the subject of this week's Meet the Team series profile.
John is an expert in international trade policy and a senior business advisor at Bennett Jones in Ottawa. He has been a huge asset to NCFA in developing a strategic approach to negotiating with government and stakeholders.
Supporting Canadian cattle feeders in Ottawa
During his career, John has been chief negotiator for the North American Free Trade Agreement (NAFTA), Canada's ambassador to the World Trade Organization (WTO), chair of the WTO General Council, and ambassador to the General Agreement on Tariffs and Trade (GATT) during the Uruguay Round of GATT negotiations. His insider's perspective on governments' approach to trade matters has been invaluable to NCFA.
Trade files he has worked on include:
In 2002, the U.S. introduced a regulation requiring all beef (and some other agriculture products) to have a label stating where it was from. To be labeled as U.S.-sourced, the animal had to be born, raised and processed in that country. Processing plants in the U.S. were required to keep Canadian born and raised animals separate from those born and raised in the U.S., a requirement that was costly to adhere to. As a result, Canadian exports to the U.S. suffered, and some U.S. plants were forced to close. Many jobs were lost on both sides of the border, and COOL cost the Canadian beef industry billions of dollars. 
Canada appealed to the WTO in 2008 and, in December 2015, won. The U.S. Congress repealed COOL to avoid $1 billion in retaliatory tariffs authorized in the WTO ruling. 
As Canada's former ambassador to the WTO, John was uniquely positioned to provide advice through the complex web of WTO tribunals and the excruciatingly long appeals process. John worked with NCFA and others on this, including advising federal government officials. His contacts within the U.S. were also helpful in getting NCFA's messages through in Washington, and he helped us communicate with Canadian importers who might have been harmed if Canada retaliated against U.S. imports into Canada.
This free trade deal between Canada and the EU came into effect on September 21, 2017. It will allow Canada to ship 65,000 metric tonnes of beef into the EU, without duty or tariffs. This could be worth hundreds of millions of dollars to Canada's beef industry. John did a great job monitoring developments, needs and the political climate within the EU, and is continuing to contribute while the details are being finalized.   
Canada was not part of the group that began this trade negotiation, but NCFA urged the Canadian government to become part of the TPP process, which it did. John offered advice on what Canada should secure in this negotiation. Now that the U.S. has chosen not to ratify the deal, John will lend his expertise to a new round of negotiations with other TPP partners, if talks go ahead.
As Canada's former Chief Negotiator for NAFTA, John has an unrivaled understanding of the ins and outs of the agreement, and his opinions are sought by industry and government during the current and ongoing negotiations with NAFTA.
Why international trade matters
Canadian beef is renowned worldwide for its great taste and high quality. A healthy export industry contributes to a healthy Canadian economy. Expertise such as John's is vital to NCFA in securing the conditions our beef producers need to develop profitable relationships with customers across the globe.
You can read more about international trade issues in 'Canadian beef trade with China takes a serious blow', 'Cattle feeders head to Ottawa to support NAFTA negotiations', 'Feeding the world: why the agri-food industry must be an economic priority' and 'How people in 58 countries enjoy Canadian beef'.
https://cattlefeeders.ca/wp-content/uploads/2017/10/screen-shot-2017-10-20-at-1.23.15-pm.png
352
412
Team
/wp-content/uploads/2020/02/ACFA-web-logo.png
Team
2017-10-19 12:11:25
2020-01-28 14:24:04
Meet the international trade expert who is helping support the Canadian beef industry abroad