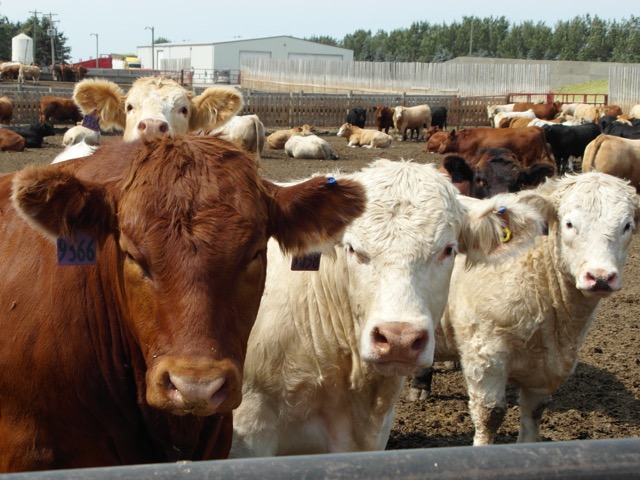 The Alberta Cattle Feeders' Association (ACFA) has led the industry for more than four decades. We are the voice of cattle feeders who raise a substantial percentage of beef produced in Alberta.
Here, in five brief points, is a snapshot of who we are, what we do, and why you should be interested:
1. We represent Alberta's cattle feedlot operators
Our members' operations range in size and number of cattle, and most are family-owned.
2. We are a volunteer organization
We have four full-time staff, and a group of contractors in Calgary and Ottawa, that get business done with the help of a large team of dedicated volunteers:
Our

13-member board

is made up of hard-working and committed cattle feeders who not only find the time to offer us their expertise and guidance but also serve on numerous other committees and boards.
Our dedicated volunteers ensure the success of our events and initiatives through their participation and support throughout the year.
3. We have five main strategic priorities for industry development
We strive to provide the maximum support to our members by focussing our efforts on the following five priorities:
Developing and maximizing access to markets. For example, we have represented the interests of the beef industry in the development of international trade agreements such as the

Canada European Free Trade Agreement

and the

Trans-Pacific Partnership

.
Enhancing competitiveness by reducing regulatory burdens. We work to create 'smart legislation' by helping regulators understand the impact their actions will have on our efficiency. Some of our current initiatives include e-certification and simultaneous approval of veterinary drugs between the U.S. and Canada.
Identifying and advocating for research priorities. Research and innovation makes our product better and our operations more efficient. Some of the initiatives we have helped fund are feed grain research and the development of a Histophilosis vaccine.
Working to improve industry relations, governance and funding. We work with industry partners on the allocation of check-off dollars in our efforts to drive the industry forward.
Building our membership by providing value. The first four priorities are part of the value we provide, as well as hosting and partnering on events and initiatives, such as the

Agriculture Business Risk Management program

at Lethbridge College, the Feedlot Emergency Preparedness manual, the

Alberta Beef Industry Conference

, the MLA dinner, and the Big on Beef event which ran in conjunction with Save on Foods.
4. We are actively working to build social license
Aside from our work to build industry's competitiveness and access to markets, we also want the general public to understand more about how we work. This includes informing people about the care and attention that goes into ensuring animal health and welfare; as well as the measures we take to minimize the impact our industry has on the environment.
5. We are focussed on recruitment and retention
Any work in agriculture is exciting and fulfilling, and working in a feedlot is no exception. But as more and more people move into urban centres, it becomes harder for feedlot operators to find employees. Recruitment and retention are major priorities for us, and our website is a hub for recruitment notices, links to education and training, and labour and recruitment news.
That's us in a nutshell.
Stay tuned for next week when we'll be taking a trip back through the history of the Alberta Cattle Feeders' Association.
https://cattlefeeders.ca/wp-content/uploads/2016/04/2-Trio.jpg
480
640
Team
/wp-content/uploads/2020/02/ACFA-web-logo.png
Team
2016-04-10 13:38:15
2020-01-28 14:25:06
5 must-know facts about the Alberta Cattle Feeders' Association