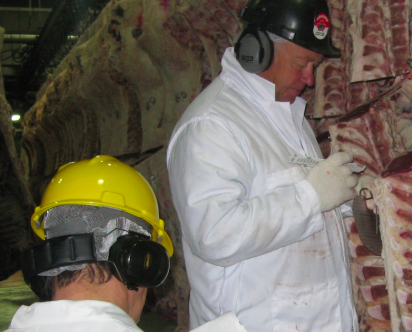 Canadian beef is known across the world for its consistently high quality. Here in Alberta, the factors that contribute to great beef production include not only our high standards of animal care, but also our unique weather and farming conditions.
Thanks to a stringent grading system, it's not only possible to rely on the quality of Canadian beef, but it's also possible to quantify it.
The Canadian Beef Grading Agency, (CBGA), assesses and grades beef at federally inspected packing plants, based on standards set by the federal government. The five grading criteria are:
Maturity (age), as this affects the tenderness of the meat
Gender, as the hormone levels in some bulls affects meat colour and tenderness
Muscling
Fat, including the amount of fat and colour
Meat colour, texture and marbling
A top grade will only be assigned if the carcass meets all five quality attributes. The amount of visible marbling will determine the segmentation within Canada's top grades – Canada Prime, AAA, AA or A. The CBGA also assesses meat yield using a specialized grading ruler and assigns a yield grade. Canada currently has 3 yield grade classes Canada 1, 2 or 3.
Why grading matters to beef producers
Cindy Delaloye, general manager at CBGA, says more than 99 per cent of the meat coming from federally inspected processing plants is graded, even though grading is voluntary.
"The livestock industry sees the value in having their beef graded because it provides a guarantee to their customers that the product in the box is what it says it is," she said. "In Canada, we're barbecue demons, so it's important for us to have the quality and consistency to know that we're going to have a good eating experience."
Feedlot operators pay a portion of the grading fee in conjunction with the processor, and grading provides them with an opportunity to command a premium price for a premium product.
What Canadian beef grading means to consumers
Marty Carpenter, CBGA's board chair, said consumers have learned to trust the grade because the beef they purchase consistently meets expectations.
"We have an exacting grading standard in Canada, whereby if the product doesn't reach a particular standard in all criteria it doesn't make the grade," he said.
Restaurateurs – and retailers particularly – are buying based on quality and want to have confidence that whenever they buy Canadian beef it will have the attributes they expect.
Marty also explained that different cultures value different aspects of the product. "Hispanic buyers in the U.S., for instance, value the fact that Canadian beef is graded on colour as that is an important indicator of freshness to them. Canadians like red meat and white fat. People buy with their eyes," he said.
Beef grading and exports
Grading is one more way of helping Canadian beef stand out in the global marketplace , helping cement Canada's reputation as a producer of world-class beef.
https://cattlefeeders.ca/wp-content/uploads/2018/05/Screen-Shot-2018-05-09-at-7.30.25-PM.png
332
412
Team
/wp-content/uploads/2020/02/ACFA-web-logo.png
Team
2018-05-10 13:00:04
2020-01-28 14:23:48
Why graded beef is good for producers and consumers