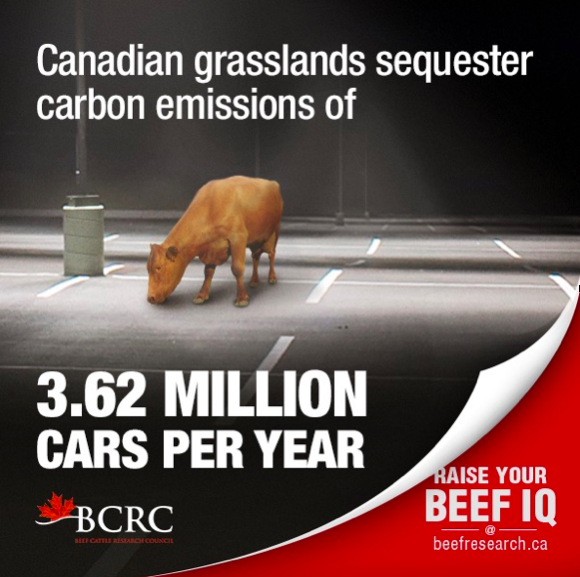 Global warming is a hot topic these days, and livestock producers sometimes get a bad rap for their contribution. In fact, the methane released by cattle through their digestive process is a factor oft quoted in the media.
In 2006, the Food and Agriculture Organization (FAO) of the United Nations (UN) released a report entitled 'Livestock's Long Shadow: Environmental Issues and Options (pdf)', which claimed that, globally, livestock is responsible for 18 per cent of all GHG emissions. That figure, the article said, was even higher than the transportation sector, including aviation. If it sounds unlikely, that's because it is!
There were plenty of reasons why that article was misleading, including:
The numbers for the livestock sector were calculated by adding up emissions from farm to table, including the gases produced by growing animal feed; animals' digestive emissions; and processing meat and milk into foods.

The transportation numbers were not similarly calculated from well to wheels, but included only the emissions created by burning fossil fuels while driving.
According to Alberta Agriculture and Forestry, Alberta's livestock industry contributes about one per cent of Canada's total GHG emissions.
Improved farming practices lead to greater sustainability
Notwithstanding the skewed nature of that much-quoted article, the agriculture industry as a whole has made huge efforts, and progress, in reducing their carbon footprint and environmental impact.
Some of the measures that have already produced a substantial improvement include:
Improved production efficiencies

Dietary refinements, introduced to reduce the methane produced in the

rumen

— including high quality feeds, food additives such as

ionophores

, lipids in the diet, and bacterial supplements

Pasture management techniques, such as avoiding overgrazing
The Beef Cattle Research Council has more information on their website about the environmental footprint of beef production.
Is a meatless diet the answer to GHG emissions?
The primary conclusion of studies about the environmental footprint of agriculture is that more intensive and efficient production methods are the best way to reduce emissions. When it comes to the livestock sectors in particular, there are always those who would propose a vegetarian diet as a solution, but it's important to factor in the greenhouse gases that would be created by substitute activities. Simon Fairley, in an article in The Guardian, asked:
How much nitrous oxide and methane would be generated cultivating grains and vegetables to replace the meat? How much carbon dioxide would be emitted producing nitrogen fertiliser to grow these crops? What emissions would be involved in manufacturing a substitute for leather? What will be the methane and nitrous oxide emissions from the wild animals that will repopulate the grasslands that cover 29 per cent of the world's land surface?
To learn more, read 'How Alberta's cattle feeders are protecting the environment', and check out The Canadian Roundtable for Sustainable Beef, an industry collaboration to improve the sustainability of Canadian beef.
https://cattlefeeders.ca/wp-content/uploads/2016/07/Screen-Shot-2016-07-28-at-9.56.23-AM.png
577
580
Team
/wp-content/uploads/2020/02/ACFA-web-logo.png
Team
2016-07-28 13:00:02
2020-01-28 14:24:52
Taking the heat off meat: the truth about GHG emissions