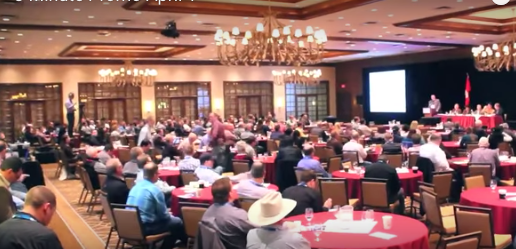 Beef producers from all over Alberta will convene in Red Deer next week for the Alberta Beef Industry Conference.
This annual event is a chance for industry members to find out what's new and network with others in the industry. As the event approaches, here's a look at some of the pressing issues ACFA has been following, and that industry members will likely discuss.
#1 The Canadian Agricultural Partnership (CAP)
The government has allocated $3 billion to invest, over the course of five years, in five areas: innovation and research; environmental sustainability; risk management; product and market development and diversification; and public trust. ACFA will look at devising projects and programs to advance the cattle feeding industry, which could attract funding under CAP.
#2 Labour
The Federal Department of Employment and Social Development Canada (ESDC) is currently reviewing the Temporary Foreign Worker Program. This program is a life-saver for cattle feeders when they are unable to find workers from within the Canadian workforce. Past government reviews have accepted ACFA recommendations but there is still room for improvement.  ACFA will continue to be engaged in this file.
#3 Comprehensive and Progressive Trans-Pacific Partnership (CPTPP)
Last month the government announced it will sign onto the new CPTPP trade agreement. This is good news for the beef industry and should result in reduced tariffs in a number of export markets, especially Japan. ACFA will continue communicating with government to stress the importance of the agreement for Canada's beef industry until it is fully approved and ratified by Parliament.
#4 Other trade issues
NAFTA and trade with China are two other pressing trade issues of great importance to cattle feeders. In June 2016, the U.S. secured approval from China for greater access to that market. Canadian producers need the same access. A new pilot program to export fresh and chilled Canadian beef to China is expected in 2018, but ACFA will continue to press for the same access given to the U.S.
#5 Competitiveness
About 10 years ago, ACFA commissioned a study to assess the competitiveness of cattle feeding in Alberta. The industry's ability to compete effectively in the international market will continue to be a priority and there will be discussions about whether it is time to update this study.
#6 Industry governance and financing
The mandatory levy on beef sales, known as the check-off, is used to fund research and marketing activities on behalf of the entire industry. ACFA and the Alberta Beef Producers (ABP) have come together to devise a new governance and funding model for the provincial beef industry, and its use of check-off dollars. A plebiscite may be required later in 2018 for a final decision.
As well as conversation and networking, the conference also features a full program of speakers, including former Prime Minister Stephen Harper.
For anyone interested in Alberta's beef industry, its challenges and opportunities, this is a must-attend event.
https://cattlefeeders.ca/wp-content/uploads/2018/02/screen-shot-2017-01-18-at-7.46.18-pm.png
249
516
Team
/wp-content/uploads/2020/02/ACFA-web-logo.png
Team
2018-02-15 13:00:58
2020-01-28 14:23:49
6 issues cattle feeders will discuss at the Alberta Beef Industry Conference