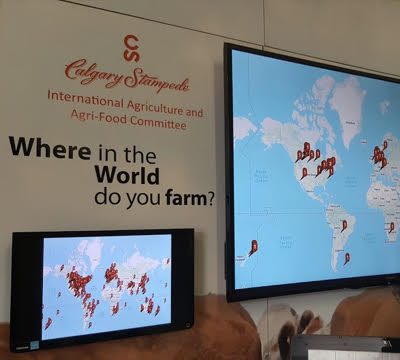 For ten days in July, the City of Calgary is all about livestock. The Calgary Stampede and Exhibition is a chance for people from around the world to don their cowboy duds and have some rodeo fun. For Alberta's beef industry, though, it's no vacation. Producers showcase their businesses and skills and become ambassadors for one of Alberta's primary industries.
An organization that truly comes into its own during Stampede is the International Agriculture and Agri-Food Committee (IAC). Comprised of members and sponsors from all along the agriculture value chain, the committee provides a link between different agricultural communities, and with the people they feed.
Although the committee works hard all year organizing events and tours, the ten days of Stampede are a whirlwind of networking and educational opportunities designed to build community and support for the industry.
3 highlights of the committee's Stampede activities
#1 "Where in the World Do You Farm?" This drop-in reception in the Agrium Western Event Centre is a chance for farmers from across the world to meet, network, and learn about business opportunities.
#2 The Agriculture and Agri-Food International Reception. Held in the Palomino Room on the Wednesday of Stampede week, this reception brings together government officials, dignitaries, industry members, producer associations and sponsors.
#3 The Canada-Mexico Agribusiness Opportunities Seminar. Now in its second year, the seminar is hosted in conjunction with the Consulate of Mexico in Calgary. It provides participants with a better understanding of the agribusiness prospects that exist between Canada and Mexico, and provides information on some of the ways these two countries are working to support mutual economic growth within the sector.
According to Bryan Walton, ACFA's President and CEO, and an IAC committee member, "the ultimate goal is to spread the word of Stampede, promote the agriculture industry here and encourage return visits. It's a great opportunity to do some serious business in a relaxed setting."
In 2017, the IAC hosted more than 2,000 people in the drop-in reception room, and fed 430 people at the reception dinner. That's a lot of contacts made, and a great deal of networking!
The work done to support trade and industry growth during Stampede is in alignment with the ACFA's strategic priorities. You can read more in 'How these four strategic priorities will build a better Alberta cattle feeding industry'.
https://cattlefeeders.ca/wp-content/uploads/2017/07/where-in-the-world-do-you-farm-e1501185095789.jpg
360
400
Team
/wp-content/uploads/2020/02/ACFA-web-logo.png
Team
2017-07-28 13:00:51
2020-01-28 14:24:20
3 ways the IAC supports agriculture during Stampede