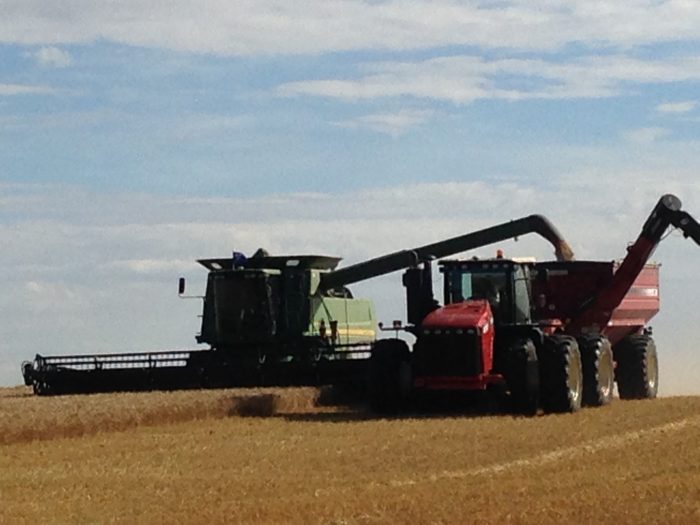 Statistics show us that agriculture is one of the most hazardous industries in Canada. But statistics don't always tell the whole story. As we learned in 'How the agriculture sector is pulling together to promote farm safety', it's hard to compare farming to other industries, because so many people live where they work. Without data that separates work-related incidents from non-work related incidents that happen on farms, the statistics are very hard to interpret.
One thing that's certain, though, is that farm equipment is a major cause of injuries. According to Glen Blahey, agricultural health and safety specialist at the Canadian Agricultural Safety Association, "machinery is one of the predominant causes of injury simply because of the frequency of use. After machinery, it tends to be livestock and then slips, trips and falls."
What is being done about equipment injuries?
First and foremost, equipment manufacturers have taken great strides in making equipment safer to operate. "Equipment design has improved very significantly over the years," said Glen, "and the Canadian Standards Association (CSA) has a technical committee that looks specifically at agricultural machinery. They look at it from a design perspective, in terms of how to keep that equipment as functional as possible and yet as safe as possible."
The missing piece, in many instances, is the ability of the end user to operate that machinery effectively.
"It's not necessarily that the equipment is dangerous or has unsafe features in it," Glen explained, "but rather that there is operator error or a lack of adequate training. There may even be a lack of adequate protocol practices that are set out to the people who are going to be operating the equipment."
Training and awareness is improving due to the availability of training, both online and in person. But when it comes to enforcing those protocols, that's where farm operators and owners have to truly step up.
"I believe that there is a growing awareness and understanding in regards to overall safety and health and wellbeing," concluded Glen. "The next generation of farmers coming up is more conscious of environmental issues, and more conscious of what people think of the agriculture industry. Additionally they have a higher awareness of the implications of an injury and of sustaining permanent disability injuries."
There's still a great deal of progress to be made, but Canada's beef industry, and farmers everywhere are committed to continued improvement. Representatives are currently participating in consultation sessions regarding the Enhanced Protection for Farm and Ranch Workers Act (Bill 6).
You can read more about farm safety in our Farm Safety Policy Statement, and in 'How the agriculture industry is pulling together to promote farm safety'.
https://cattlefeeders.ca/wp-content/uploads/2016/09/IMG_1459-e1473963619120.jpg
525
700
Team
/wp-content/uploads/2020/02/ACFA-web-logo.png
Team
2016-09-15 12:21:45
2020-01-28 14:24:52
How safe is farm equipment?