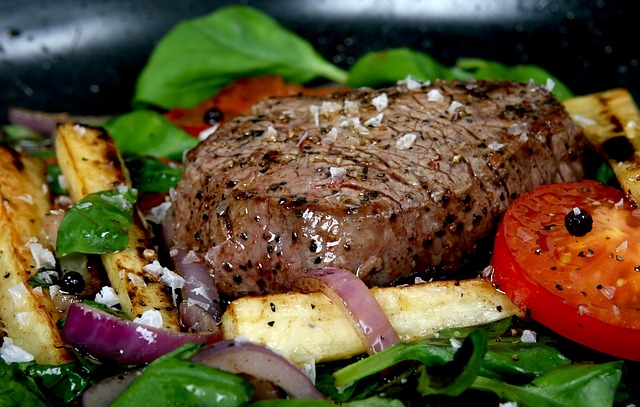 We hear a great deal in the media about the negative impacts of livestock production on the environment. Unfortunately, that's only half the story, and it's time for people to take a more balanced look at how to best feed a hungry world.
Why plant crops are not the only answer
All agricultural activities have the potential to create both negative and positive environmental impacts. 
Beef cattle contribute approximately 2.4 per cent of Canada's greenhouse gas (GHG) emissions. But beef production also has many environmental benefits: 
Carbon sequestration: One acre of healthy grassland can store more than 80 tonnes of carbon. Figures citing beef production emissions do not take into account the approximately 1.5 billion tonnes of GHGs naturally sequestered from the atmosphere by grasslands and pasture.
Biodiversity: Although cattle production uses 33 per cent of Canada's agricultural land, it supports biodiversity and provides 68 per cent of the Wildlife Habitat Capacity of all agricultural land in Canada (CRSB, 2016).
At-risk species: Several at-risk species, such as burrowing owls, swift fox, greater prairie chicken, sage grouse, black-tailed prairie dogs, and loggerhead shrikes prefer unbroken pasture as their habitat.
Water management: Grasslands help maintain watersheds, which in turn help prevent drought and flooding.
Erosion: Grasslands also help prevent erosion.
Regeneration of unusable land: Grasslands account for about 33 per cent of Canada's agricultural land, but this is primarily land that is unsuitable for crop production. While beef production makes use of land that is too rocky, hilly, boggy or dry for crop production, it also naturally replenishes and adds nutrients to the soil.
Replacing beef with plant crops would require moving more land into cultivation. This will result in a loss of natural grasslands, the release of soil carbon, reduced biodiversity and the potential loss of several at-risk species. This does not take into account the environmental and financial costs involved in converting native grasslands to crops, then continually irrigating and replenishing the land to maintain those crops.
How did beef production get such a bad rap?
The oft-quoted negative impacts of beef production on the environment come primarily from two discredited sources:
'Livestock's Long Shadow' was a 2006 UN study that cites a number of incorrect facts, statistics and statements. For example, it asserted that 18 per cent of global GHG emissions come from livestock. Later studies conducted by the World Resources Institute (WRI) conclude that the true figure is only about five per cent. 
'Cowspiracy' is a 2014 Hollywood film which likewise uses incorrect facts and statements to argue that we should move away from a meat-based diet.
Despite the fact that these two sources have been emphatically discredited and disproved, they are still incorrectly quoted as 'proof' that livestock production is environmentally unsustainable.
Continued improvement
Like any responsible industry, Canada's beef producers are dedicated to improving their impact on the environment. The true facts about Canadian beef's contribution to climate change reflect this effort:
– Canadian beef has one of the lowest carbon footprints in the world: 11.4 kg of carbon dioxide per one kg of live cattle weight.
– Cattle contribute very little to total Canadian and global GHG emissions: GHGs from cattle are 2.4 per cent of total Canadian GHG emissions and 0.04 per cent of total global GHG emissions. In Canada, 28 per cent of GHGs come from transportation.
– Canada's beef industry reduced its GHG footprint by 14 per cent from 1981 to 2011. Canada now produces the same amount of beef with 29 per cent less breeding stock, 27 per cent less slaughter cattle, and 24 per cent less land.
Cattle feeding and the environment
In Canada, beef cattle are primarily raised on natural grassland and pasture for about 12 to 15 months, and then they are 'finished', often at a feedlot, using high-energy grain rations. 
85 per cent of the grain fed to livestock is unfit for human consumption and would otherwise be considered waste.
This combination of pasture followed by feedlot allows us to use less land, less water and emit fewer greenhouse gases, putting Canadian beef producers among the most efficient in the world.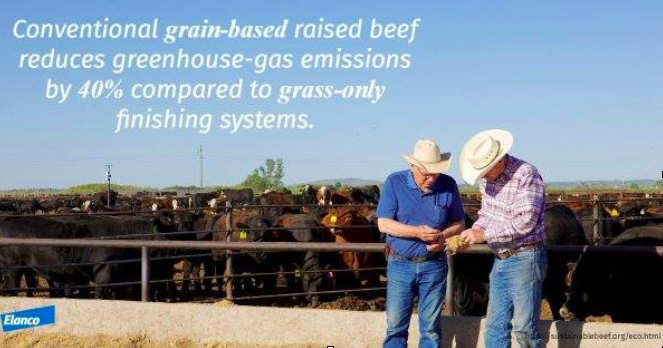 Making up your mind with all the facts
Next time you're faced with a delicious, nutritious steak, consider that beef production has many benefits for the environment, and that beef producers are working successfully to reduce any impacts that their activities do have. 
Not only is beef an important part of a healthy, balanced diet, it's production also plays an important role in protecting our native grasslands and supporting Canadian wildlife and eco-systems.
https://cattlefeeders.ca/wp-content/uploads/2017/03/beef-1239187_640.jpg
407
640
Team
/wp-content/uploads/2020/02/ACFA-web-logo.png
Team
2019-01-04 09:53:27
2020-01-28 14:23:10
Will eating less meat benefit the environment?