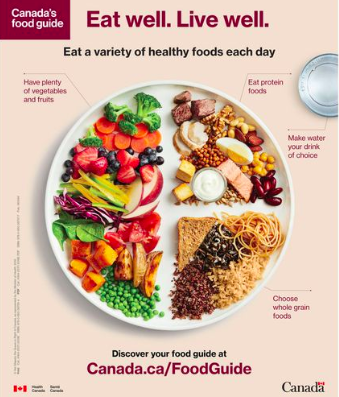 With the release of Canada's updated Food Guide earlier this week, beef producers are happy to see that Health Canada recognizes a place for beef in the healthy diet.
Some of the highlights of the new guide focus on healthy eating habits, such as cooking at home, limiting intake of processed foods, and drinking water rather than sugary drinks.
In its visual plate model, Health Canada suggests a diet consisting of half fruits and vegetables, one-quarter whole grains and one quarter proteins. It recommends choosing plant-based proteins more often, but in combination with other foods such as lean meats. 
Meats and plant-based foods are better together – the nutrient value of both foods increases when consumed as part of a meal. For example, the absorption of iron increases over 150 per cent when meat and legumes are combined on the plate.
Beef and other meats are among the most nutrient-rich sources of complete, quality proteins. To get a comparable amount of protein from plant-based foods would require consuming considerably more calories.
Many Canadians are overfed but undernourished – even though dietary trends show a decrease in meat and dairy consumption, consumption of processed and other nutrient-poor foods is on the rise. Health Canada's recommendations to make healthier choices are aimed at encouraging Canadians to eat mindfully, and to eat a wide variety of healthy, nourishing foods.
All food production systems come with their own impacts and benefits. To replace Canadian beef with another protein source could, in fact, mean higher caloric and environmental impacts from other foods. Cattle feeders support consumers taking action on food waste reduction through sustainable food choices. Beef is a good example of a sustainable food choice because Canada is an exceptional place to grow beef and has one of the most sustainable agriculture systems in the world.
Real, unprocessed food
Because beef is typically eaten as part of a complete meal, rather than in isolation, it fits nicely with Health Canada's recommendation to eat a variety of healthy foods and to limit highly processed foods.
When combined with vegetables and whole grains, a delicious portion of lean beef makes a complete, balanced meal. 
Preparing beef for a healthier diet
Beef is an excellent source of many essential nutrients including iron (in the bio-available heme form), zinc, vitamins B6 and B12, riboflavin, niacin and selenium. It also contains good fats such as ruminant trans-fats, which are linked to health benefits.
Health Canada recommends using herbs, spices and seasonings to add flavour, without adding salt or sugar. Check out the delicious recipes to be found at Think Beef and Alberta Beef where you will find inspiration for a healthy, delicious meal that fulfills the recommendations of Health Canada's Food Guide.
You can learn more about the nutritional benefits of beef in '4 reasons you should include beef in your health, balanced diet'
https://cattlefeeders.ca/wp-content/uploads/2019/01/Screen-Shot-2019-01-24-at-1.38.10-PM.png
397
339
Team
/wp-content/uploads/2020/02/ACFA-web-logo.png
Team
2019-01-24 14:50:47
2020-01-28 14:23:09
Canada's Food Guide leaves room for beef on the table