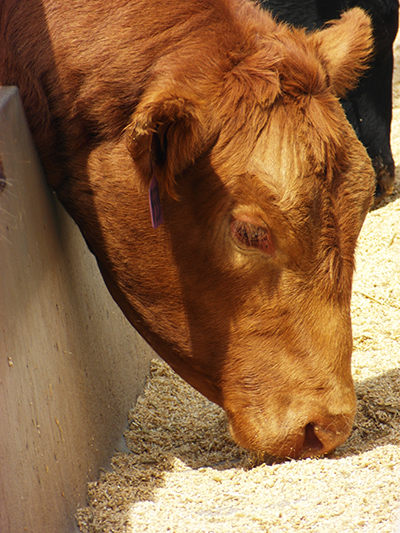 In a recent post on this blog, we explained why hormones are used in beef cattle production, and explored the implications for both animals and people. This week we continue that topic with a look at the science behind hormone use.
To find out whether Canadians should be concerned about the use of hormones in beef production, we spoke with Reynold Bergen, science director with the Canadian Beef Research Council (BCRC).
What the research says
"Hormone use has been the subject of numerous independent studies," said Reynold. "In 2014, James Magolski and his co-workers at North Dakota State University, published the results of a study that used pigs to find out whether growth implants used in beef production could cause young girls to hit puberty sooner. The results provided us with a great deal of insight."
Reynold explained that the main findings of the study were as follows:
Pigs were fed one of four diets. Two contained beef, either from cattle raised without hormone implants, or from cattle implanted with hormones. Two were vegetarian diets (containing canola meal low in natural plant estrogens, or a soy meal high in natural plant estrogens). Estrogen levels were the same in the diets that contained beef from implanted cattle, unimplanted cattle, or canola meal. Estrogen levels were higher in the soy-based tofu diet, because of naturally occurring plant estrogens.

None of the four diets – whether they contained high or low levels of estrogen – resulted in a higher level of estrogen or progesterone in the animal's blood. This is because stomach acids and digestive enzymes break down the vast majority of hormones consumed in the diet; very few of them are absorbed into the bloodstream.

The effects on the test animals' growth and reproductive characteristics were the same for all four diets.
"In other words," Reynold explained, "there are more hormones in the bun than in the burger. But, in any case, neither has any effect on the person consuming the food."
You can learn more about this study in the BCRC blog post 'These little piggies ate a quarter pounder a day.'
Stay tuned for an upcoming post in which we will be discussing another topic that is both controversial and subject to misinformation – the use of antibiotics in beef cattle production.
https://cattlefeeders.ca/wp-content/uploads/2017/01/cattle-feeding-in-bunk.jpg
533
400
Team
/wp-content/uploads/2020/02/ACFA-web-logo.png
Team
2017-01-12 16:29:21
2020-01-28 14:24:38
Beef and hormones: what the science says