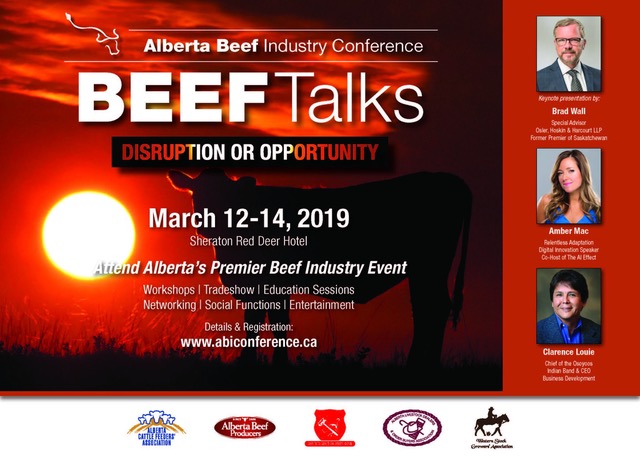 The Alberta Beef Industry Conference is less than two months away, taking place at the Sheraton Red Deer Hotel from March 12-14, 2019.
The event is one of Canada's largest beef conferences and trade shows, and provides an opportunity for the industry to come together to learn, to network and to discover the latest products and innovations.
As one of the five hosts of the conference, the Alberta Cattle Feeders' Association is delighted to work alongside Alberta Beef Producers, Alberta Auction Markets Association, Alberta Livestock Dealers and Order Buyers Association, and the Western Stock Growers' Association.
Once again, there is a line-up of speakers who have a wealth of industry or subject expertise to share. We look forward to hearing their insights on the industry's most pressing issues. Here are some of the highlights:
Brad Wall: Western Canada's Economy: Risks and Opportunities; Offense and Defense
Brad will speak about the current political landscape and its impact on Western Canada.
Amber MacArthur and Marty Seymour: If the Future is Different Than the Past, is Your Business Ready?
Learn what your business needs to do to adapt to changing times.
Chief Clarence Louie: Cowboys & Indians – Causing Disruption to Create Economic Prosperity
Hear how he turned a bankrupt band into a multi-faceted corporation that employs hundreds of people.
Dr. Frank Mitloehner: Sustainability in Beef – the Nexus Between Productivity and Environmental Performance
A look at environmental mitigation opportunities, especially in the areas of carbon emission reductions, welfare and health.
Dr. Sylvain Charlebois: The Rise of the Conscious Carnivore? The Good, the Bad, and the Awfully Ugly
Advice on dealing with the vegetarian and vegan movements.
An insider's perspective on governments' approach to trade matters and the impact it has on the Canadian beef industry.
Brett House: Global Economic Outlook Amidst Rising Uncertainty
What's ahead for the global economy.
Brett Stuart: Global Beef & Protein Outlook
A view of the global beef landscape, including international trade and health issues.
The beef industry's supply and demand dynamics, and current Canadian price trends.
Art Douglas: 2019-20 Weather Forecast
The upcoming forecast, and a discussion of the impact weather patterns have on the beef industry.
The ever-popular Danny Hooper returns as master of ceremonies, and comedian John Hastings will be entertaining us during the Taste of Alberta dinner on Wednesday evening.
Mark your calendars for another not-to-miss event – you can register here.
https://cattlefeeders.ca/wp-content/uploads/2019/01/IMG_0096.jpeg
457
640
Team
/wp-content/uploads/2020/02/ACFA-web-logo.png
Team
2019-01-31 11:52:55
2020-01-28 14:23:09
Mark your calendar for the Alberta Beef Industry Conference