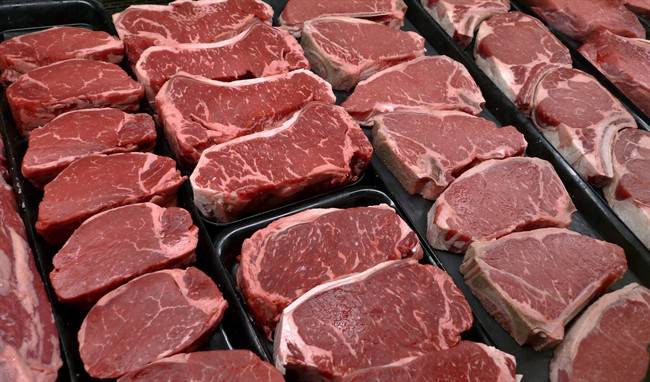 Every day we here about a new fad diet. One urges us to eat no meat, another recommends  eating only meat. Meanwhile, another cites the importance of good carbs, while others tell us to cut out carbs altogether. It's confusing to say the least.
Despite all these fad diets, the voices of nutritional reason advocate moderation and balance.
If you're worried that you should cut out red meat for the sake of your health, here are four reasons to make beef an integral part of your nutritious, balanced diet:
#1 Protein
Meat is one of the most complete dietary sources of protein, containing all eight of the essential amino acids needed for the growth and maintenance of our bodies. Plant protein sources such as beans, lentils and nuts are considered to be incomplete, because they do not contain all the essential amino acids.
Protein is essential for growth, energy, maintenance and repair, and animal derived proteins such as meat, fish, eggs and milk are the best sources.
#2 Fat
Red meat contains a combination of saturated fats, unsaturated fats and ruminant trans-fats, which all have a role in a nutritious diet. Here's what you should know about these fats:
– The notion that saturated fats raise blood cholesterol levels has been disproven.
– Consumption of saturated fats can raise HDL (or good cholesterol) in the blood stream.
– Lean beef contains more unsaturated fats than saturated.
– Ruminant trans-fats, unlike their manufactured counterparts, are not considered unhealthy.
– Conjugated linoleic acid (CLA), a ruminant trans-fat, is linked to various health benefits, particularly regarding weight loss.
Thanks to enhancements in cattle breeding, production and beef trimming practices, today's beef is leaner than ever. On average, today's Canadian beef has less than 8g of fat (per 100 g), when trimmed of external fat.
#3 Vitamins and minerals
Red meat contains many of the vitamins and minerals our bodies rely on:
– B12. Found only in animal derived foods, this is an essential nutrient for blood formation, brain function and the nervous system.
– Iron. The iron found in meat is in the heme form, which is absorbed readily by the body. Not only is heme iron only found in meat, but it actually improves the absorption of the non-heme iron found in plant-based foods.
– Zinc. Important for body growth and maintenance.
– Selenium. An important trace element.
– Niacin. Also known as vitamin B3, it helps reduce the risk of heart disease.
– B6. Important for blood formation.
– Phosphorous. Essential for body growth and maintenance.
Beef also contains many other vitamins and minerals in smaller amounts. People who don't consume meat run the risk of having deficiencies in many essential nutrients.
#4 Other compounds
Some other natural compounds that you will benefit from every time you eat beef include:
– Creatine – an energy source for muscles.
– Taurine – an antioxidant amino acid important for heart and muscle function.
– Glutathione – an antioxidant found in most whole foods, which is particularly abundant in meat.
– L-Carnitine – an amino acid thought to aid with heart health, diabetes control and weight loss.
Worried about cholesterol?
Cholesterol is a sterol found in animal fats. It is produced naturally by the body and has many functions, but an excess is linked to heart disease. Dietary cholesterol has little effect on blood cholesterol and is not considered a health concern. Moderate consumption of saturated fats has also been cleared of raising cholesterol.
Lean meat has even been shown to have a positive effect on cholesterol.
Worried about heart disease?
Many studies have attempted to prove whether beef contributes to the likelihood of heart disease and the results have been inconclusive. Some have found a connection and others have found no connection. 
It has been speculated that many health-conscious people avoid red meat because of health claims in the media, and those people tend to eat more fruits, vegetables and fibre and also to exercise more. While meat eating could be a marker for unhealthy behaviours, that is not to say that it doesn't have an important role to play in a balanced, healthy lifestyle.
Worried about cancer?
There is some evidence that eating large amounts of overcooked, or well-done meat, fish or poultry could increase the risk of cancer. This could be because overcooking produces heterocyclic amines, a class of cancer-causing substances. 
There is no link between cancer and the consumption of properly prepared meat, fish or poultry.
The health benefits of beef summarized
A healthy, balanced diet should include a variety of nutritious foods, all eaten in moderation. This includes beef, which is a source of many important nutrients, including complete proteins, vitamins and minerals, all of which have a crucial role in building strong, healthy bodies.
Now that you know eating beef should be a healthy part of your balanced diet, check out this blog post on the environmental impacts of beef production. You might be surprised what you learn.
https://cattlefeeders.ca/wp-content/uploads/2016/07/cpt120306748_high1.jpg
382
650
Team
/wp-content/uploads/2020/02/ACFA-web-logo.png
Team
2019-01-10 10:50:46
2020-01-28 14:23:10
4 reasons you should include beef in your healthy, balanced diet