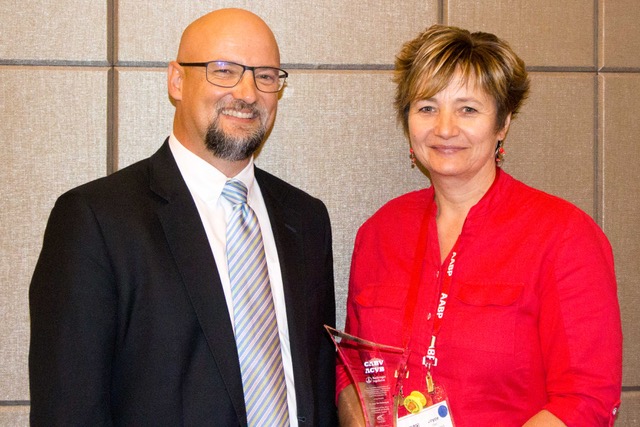 Joyce Van Donkersgoed is a valued member of the cattle feeding sector who we've written about in previous posts on this blog. Her contributions to animal care and welfare make hers a familiar name among industry members.
We were delighted to see Joyce recognized at the 50th annual conference of the American Association of Bovine Practitioners on Sept. 14, 2017, in Omaha, Nebraska.
The Metacam® 20 Bovine Welfare Award is given each year to recognize the achievements of an individual in advancing the welfare of animals via leadership, public service, education, research/product development, and/or advocacy. It is awarded to a doctor of veterinary medicine or animal scientist working in Canada, or a faculty member or a graduate student of a Canadian university. The recipient is someone whose work significantly improves bovine welfare in cattle production and research systems, or improves scientific methods of measuring bovine welfare.
Joyce is the owner of Alberta Beef Health Solutions in Picture Butte, Alberta, providing emergency, herd health and production services as well as research and regulatory services. She was also instrumental in the development of the Feedlot Animal Care Assessment Program (pdf) which we wrote about in 'New assessment tool to audit feedlot animal care'.
Of her research work, Joyce said: "You can't manage what you don't measure, which includes animal welfare, and we must continually strive to improve. Beef veterinarians have a key ethical and moral responsibility to ensure animal welfare whilst balancing the needs of their clients. It isn't always simple or easy to do, but persistence does pay off over time if you don't give up and are doing the right thing for the animals, which is ultimately best for the client."
Joyce donated the $2,000 award to the National Cattle Feeders' Association (NCFA) Welfare Committee.
You can read more about Joyce and her achievements in 'Feedlot people: meet a cattle feedlot veterinarian'.
https://cattlefeeders.ca/wp-content/uploads/2017/09/metacam-20-bovine-welfare-award-2017.jpg
427
640
Team
/wp-content/uploads/2020/02/ACFA-web-logo.png
Team
2017-09-28 13:00:33
2020-01-28 14:24:05
Dr. Joyce Van Donkersgoed wins award for contributions to cattle care