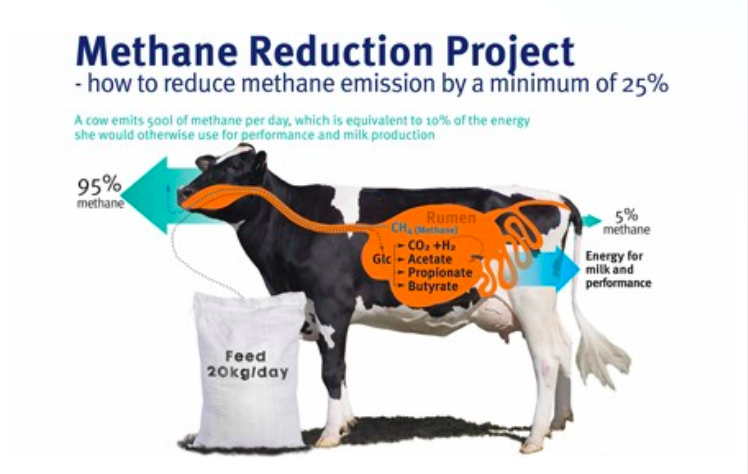 Cows require an exceptional digestive system to thrive on a diet of grass and other plant materials.
These ruminants have a stomach with four compartments, the first of which is called the rumen. Micro-organisms in the rumen ferment the food and start the digestive process. Each time the cow regurgitates and re-chews the food, this microbial activity breaks down cellulose, fibre and carbohydrates into usable compounds.
An unfortunate byproduct of this digestive process is methane. Cows have been identified as a significant source of greenhouses gases, and the beef industry is committed to minimizing its impact.
Project Clean Cow
is a 10-year research project that holds promise of a solution.
Spearheaded by DSM, a global science-based company and a world leader in the field of animal nutrition, the project has developed a feed additive that reduces the methane created through the digestive process of cattle.
"The current Clean Cow project started in 2007, as part of a bigger initiative at DSM called the Climate Change Induced Innovation Project," said Hugh Welsh, president, North America, at DSM. "Our goal was to develop a feed supplement for ruminants which would reduce methane emissions by at least 30 per cent. This would substantially lower the GHG footprint of cattle, and potentially have a meaningful impact on global climate change-related emissions."
The project started with input from biologists and chemists at DSM's research and development unit in Switzerland, as well as experts in ruminant science and animal nutrition. It has since expanded to include an international scientific network.
The result is a feed supplement that consistently reduces the methane produced by ruminants (dairy cows, beef cattle and sheep) by 30 to 50 per cent.
What happens next?
"Our next step is to work hand-in-hand with industry and the scientific community for product launch," said Hugh.
As a starting point, DSM has commissioned a large-scale field trial to demonstrate the viability of feeding the compound in backgrounding and finishing operations. Field tests by Viresco Solutions, an environmental consulting firm based in Calgary, AB, should be complete by the end of this year. Cattle will be fed with flaked corn, flaked barley and standard barley, in addition to the supplement, to see if there are any effects on animal performance, health or carcass quality.
"Viresco took the lead in applying to Emissions Reduction Alberta to share in the risk of testing at commercial scales", explained Karen Haugen-Kozyra, President at Viresco.  "We call this 'on the road to low carbon beef' – if combined with regenerative ranching, increased feed efficiency and testing new feeding technologies, the entire sustainability story for beef production in Alberta becomes really attractive. We are proud that DSM chose Alberta to test their innovative approach."
As we learned in a previous blog post, ammonia is another greenhouse gas emitted by cattle. Emissions research, conducted in Lethbridge by Agriculture and Agri-Food Canada, is helping us to understand ammonia's environmental impact, and find ways to minimize it.
https://cattlefeeders.ca/wp-content/uploads/2018/01/screen-shot-2018-01-18-at-9.44.09-am.png
474
748
Team
/wp-content/uploads/2020/02/ACFA-web-logo.png
Team
2018-01-18 13:00:49
2020-01-28 14:24:04
How Project Clean Cow is reducing cattle methane emissions by up to half