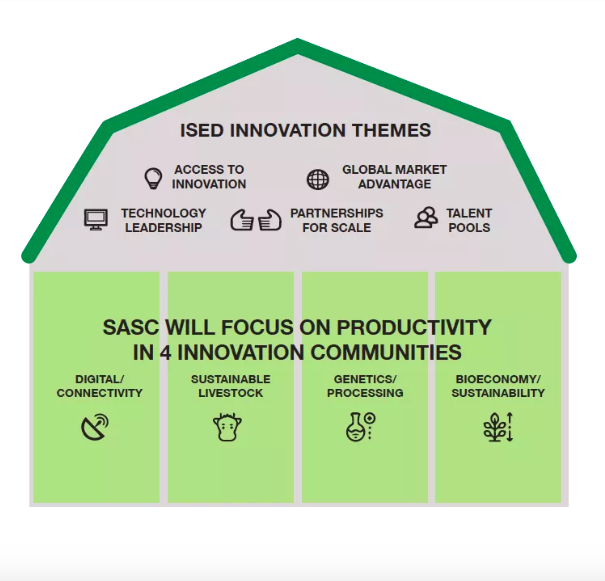 Two major Alberta industries — agriculture and oil and gas — are collaborating to generate novel ideas that will benefit the environment and improve sustainability.
The collaboration was triggered by a March 2017 announcement that the federal government would provide up to $950 million in funding under the Innovation Superclusters Initiative.
The "supercluster" concept encourages small, medium and large companies, academic institutions and not-for-profit organizations to come together to generate bold ideas. The potential outcome of these collaborations is more well-paying jobs, groundbreaking research and a world-leading innovation economy.
An agricultural cluster – Smart Agri-Foods Supercluster (SASC) – was formed in response to the federal announcement.
What SASC is working toward
SASC is an open system for collaboration across all sectors of the agri-foods value chain, including agri-foods producers, processors and research, as well as players from outside the traditional agriculture sector.
By providing a venue for these participants to join across diverse fields and from different parts of the country, the SASC is facilitating innovation and research that otherwise might not happen.
Four initial "innovation communities" were established:
Digital Connectivity – intended to develop technologies and tools for today's (and tomorrow's) smart farm.
Genetic/Processing – including soil and root intelligence, protein and processing innovations and photosynthetic efficiency.
Sustainable Livestock – to more efficiently and sustainably produce premium meat protein.
Bio Economy and Sustainability – to improve sustainable performance, farm management and trading platforms.
Collaborating with oil and gas
Bill Whitelaw, chair of the SASC steering committee, suggested to the group that the agriculture and oil and gas sectors collaborate on some of their joint challenges. Bill is also president and CEO of JWN Energy and vice-president of Weather Innovations, so his knowledge of both sectors is extensive.
"Agriculture and energy share many of the same environmental and sustainability challenges," said Bill, "so it makes sense to bring in the oil and gas sector on the basis of air, water and land innovations. As part of that collaboration, we invited Joy Romero, head of the Clean Resource Innovation Network (CRIN) to join the SASC board."
Why the partnership is the way forward
Bill used water as an example to explain how a collaboration could benefit both industries.
"These are two sectors that use huge amounts of water in their operations and produce huge amounts of waste water. There is an opportunity for the two industries to get together and share innovations or research when it comes to water management or treatment," he said.
"For instance, technology developed to clean waste water from a fracking operation could be just as effective in a feedlot. Joint solutions could help the sectors to manage their costs and to take a joint view on managing our resources."
It also gives the industries an opportunity to demonstrate that they are taking these issues seriously and actively developing solutions.
Government funding
Although the SASC was one of nine superclusters shortlisted for funding, they were not among the final five selected.
"But we still exist and all the original companies are still active in the supercluster," Bill said.
"We have made our home in Olds College and are using their smart farm to create demonstration projects. Potentially, you could see an oil sands company working with an agri-fertilizer company to fund an initiative under the air, water and land banner."
Agriculture and oil and gas are two core industries in Alberta – and both sectors are working with our key natural resources. The groundbreaking collaboration between these two sectors, and academic and research institutions is an exciting development for the industries themselves and Canadians generally.
We will report on their progress as projects unfold.
https://cattlefeeders.ca/wp-content/uploads/2018/05/Screen-Shot-2018-05-16-at-10.05.26-PM.png
581
605
Team
/wp-content/uploads/2020/02/ACFA-web-logo.png
Team
2018-05-17 13:00:48
2020-01-28 14:23:48
From oil sands to oil seed: How inter-industry collaboration is good for Canada