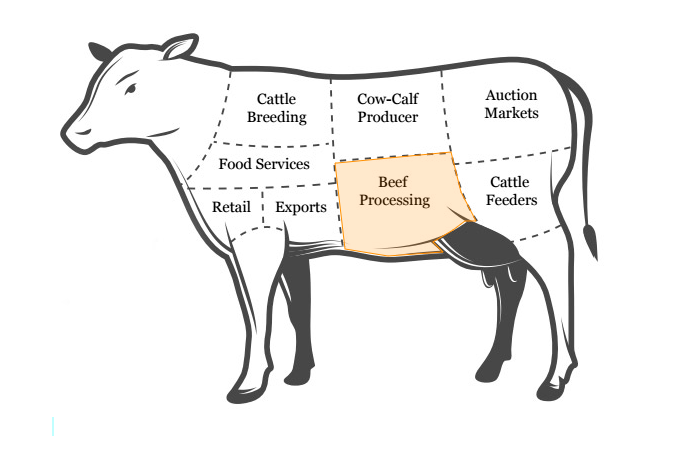 That delicious Canadian beef meal you're enjoying is the product of a series of businesses and producers, each of whom plays a distinct role in the process. Here's a quick rundown of the steps taken, and the hard-working players involved, in bringing beef to your table.

Cattle breeding: This is the first step in the beef production chain, and can take place naturally or through artificial insemination. Cattle breeders work to raise cattle with specific and superior genetics that can be sold to cow-calf ranchers. There are about 10,000 breeders of registered beef cattle in Canada. Our national herd was originally built on traditional British breeds such as Angus, Hereford, Shorthorn and Galloway. French breeds such as Charolais, Simmental, Limousin and Maine Anjou were introduced later.
Cow-Calf Ranching: Cow-calf producers keep a herd of cows that are bred annually to produce a crop of calves. These cow-calf pairs are raised on pasture. 
Auction Markets: This is where cattle are bought and sold. There are many different types of sales.  Some sales are cow-calf pairs that can be purchased by ranchers. Feeder calves that are ready for finishing are bought by cattle feeders. Cattle are also purchased at auction by beef processors. Every year a Canadian Auctioneer Championship is held by the Livestock Markets Association of Canada (LMAC) to enable auctioneers to improve and showcase their unique skills.
Cattle Feeders: Cattle feeders typically purchase feeder calves anywhere from 600-900 pounds. These cattle enter a feeding operation where they are fed a high energy ration of forage and grain such as barley, wheat, or corn. Cattle can spend anywhere from 60-220 days at a feeding operation until they reach market weight of 1,400 to 1,500 pounds. In 2016 Canada fed 2.7 million cattle, and produced three billion pounds of beef. Most of these cattle came from modern feedlots that use modern production technologies to improve quality, enhance environmental sustainability, and build the international competitiveness of Canada's beef industry.
Beef Processing: The meat-packing industry handles the processing of cattle and the harvesting of beef, as well as the packaging and distribution of beef products.
Retail: The end beef product is sold by packers to the final consumer through grocery stores and other retail outlets.
Export: Approximately 39 per cent of Canadian beef goes to export markets, such as the US, Asia, and Europe.
Food Service: This includes any business, institution or company that prepares meals outside the home for resale, and includes restaurants. 
All of these "sectors" in the beef value chain are supported by a variety of industry associations and organizations that help look out for the interests of their members and collaborate to grow and strengthen Canada's beef industry. Check the interactive image to learn more.
https://cattlefeeders.ca/wp-content/uploads/2017/12/screen-shot-2017-12-21-at-12.07.50-pm.png
474
686
Team
/wp-content/uploads/2020/02/ACFA-web-logo.png
Team
2017-12-21 13:00:30
2020-01-28 14:24:04
The 7 stages of beef cattle production