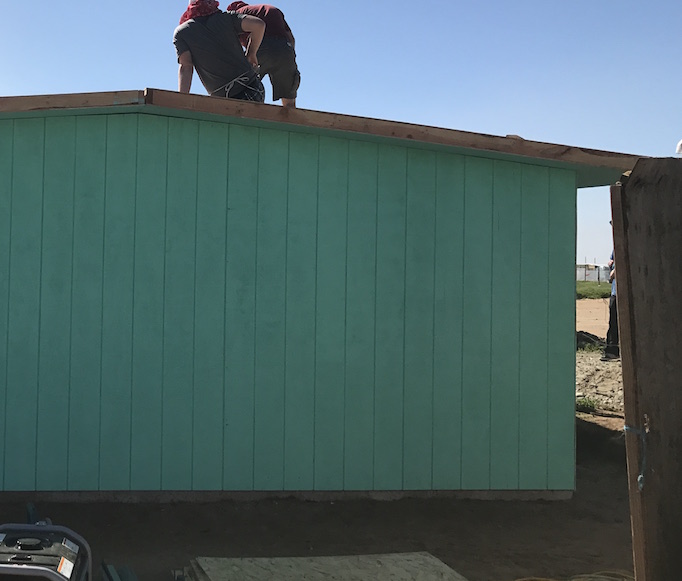 Not content with merely feeding the world, many of Alberta's cattle feeders also have a strong commitment to building community. We think that's pretty special, and in upcoming blog posts we will be featuring some of the ways our members volunteer their time to help others.
This week we met Jacob Bueckert, of Driland Feeders in Warner, Alberta. Jacob and his wife, Caroline, recently flew their three children down to Mexico to build homes for a disadvantaged family.
"We went to Vicente Guerrero about four hours south of San Diego to build a house for a family who was basically living in a one-room shack," said Jacob. "They had one bed for a family of four, and a baby on the way in less than a month."
Jacob's family flew down and joined a church group and friends from Burdett, Alberta. In all, the group of 33 people built two houses.
Alberta is well known for being a generous province and, like so many others, Jacob is motivated by a desire to enrich the lives of others.
"I wanted my family to experience the joy of giving, rather than just sending money down," he said. "When you send money, you enrich the lives of the people receiving, but when you go and help, you enrich your own life, too."
Jacob's children found the experience so rewarding that they are keen to forego their usual family vacations in order to do the same again. They are planning another volunteer trip in two years' time. "When we got back, my son brought me his tablet and laptop and said that he thought he should start reading books instead of playing on these."
Creating community here in Alberta too 
Jacob sits on the ACFA board of directors and also volunteers as a youth group leader. "Ten teens meet twice a month to have fun," he explained, "but also to learn how to tackle life in a way that will bring joy." As the industry struggles to encourage young people to stay in rural areas and work in agriculture, these activities help provide youth with strong roots and a sense of having a future in their communities.
In an upcoming post we will speak with board chair, Martin Zuidhoff, who recently visited South America to help build a school.
https://cattlefeeders.ca/wp-content/uploads/2017/03/house-resized.jpg
581
682
Team
/wp-content/uploads/2020/02/ACFA-web-logo.png
Team
2017-03-23 12:31:24
2020-01-28 14:24:38
Alberta's volunteer spirit shines among cattle feeders: meet Jacob Bueckert