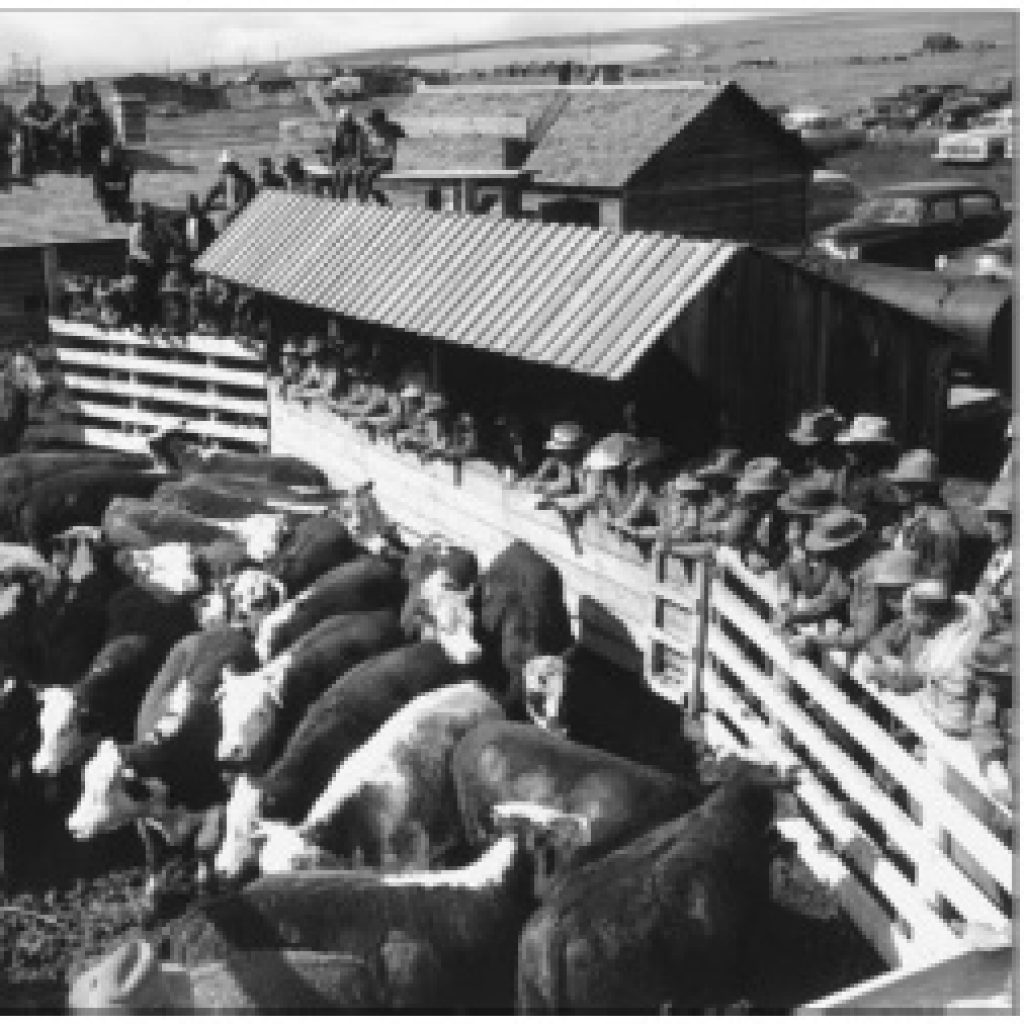 Alberta has a long history of producing the finest beef, and our feedlot operators are proud of the role they play in producing world-class quality. 
In a previous post we explained who the ACFA is, and what we do. This week we're going to share a short history of the Alberta feedlot industry and the birth of its association:
Cattle feeding in Alberta
The first cattle feedlot was opened in Strathmore, in the late 1950s, and by the late 1960s feedlots were a booming business with many different operators. But in the early 1970s, a combination of events threatened the industry:
The Crow Rate subsidized farmers to ship grain east, forcing up the cost of feed grain in Alberta.

Canada's banning of growth hormones hurt Canadian producers' ability to compete with U.S. producers.

A new beef grading system was introduced which favoured lean, rather than marbled meat, even though marbling improves the taste and tenderness.
The birth of an association to represent cattle feedlot operators
It was a difficult time for cattle feeders, and in 1973 they banded together to create a cohesive voice for their industry. Envisioning a stronger, more profitable and more sustainable cattle feeding industry, they formed the Alberta Cattle Feeders' Association.
Over the course of more than 40 years, we have grown and evolved as an association, representing cattle feeders within the beef industry, and to government and the public. But we do more than advocate for Alberta's cattle feeders; we are also directly involved in developing industry best practices, technology and research. There's a lot going on, so we'd need more than this blog post to give you our entire history, but here are some of the milestones we think you'll find interesting:
1980s: We held our first beef industry convention, and published our first magazine. Sales of advertising space in the magazine and booth space at the trade fair gave the association a new financial stability.
1993: The Alberta Farm Animal Care Association was formed by livestock producer organizations, including ACFA.
2007: We helped create the National Cattle Feeders' Association, and were actively involved in creating the new Alberta Livestock and Meat Strategy.
2008: ACFA created the Alberta Beef Industry Alliance (BIA), an informal coalition of producer organizations from all parts of the beef supply chain, to fight for supportive legislation.
2009: BIA moved forward on promoting a new industry model after successfully achieving the refundable check-off.
2012: ACFA spearheaded the Agricultural Industry Labour Council of Alberta, a group of associations that focus on improvements to the temporary foreign worker program.
2015: The Feedlot Emergency Preparedness Plan was introduced as a feedlot animal care assessment tool.
2015: We launched a retention and recruitment campaign to create awareness, develop and deliver tailored recruitment and retention workshops for employers, and educate future generations of workers about the beef industry and feedlot sector.  
2015: Country of Origin Labelling (COOL) legislation was repealed. The legislation forced U.S. processors to label pork and beef according to country of origin, requiring the segregation of Canadian animals from U.S. animals. The extra costs for processors made Canadian meat prohibitively expensive. Look for a more detailed explanation of this in a future post.
Stay tuned as we tell you more about the Alberta Cattle Feeders' Association in upcoming posts. Over the next few weeks we'll be introducing you to some of the people who contribute to our organization.
https://cattlefeeders.ca/wp-content/uploads/2016/01/Second-Pic-Blog-1024x1024.jpg
1024
1024
Team
/wp-content/uploads/2020/02/ACFA-web-logo.png
Team
2016-01-07 12:33:32
2020-01-28 14:25:23
The making of a cattle feeders' association – major milestones in our history